STEPN is a new move-to-earn NFT lifestyle application that motivates people to walk, jog, and run by incentivizing them.
To play STEPN, you need to fund the STEPN wallet with Solana (SOL).
To transfer Solana to the STEPN wallet, you need to copy your STEPN wallet address.
In case you have not created a STEPN wallet account, you need to create it first.
Then, paste it into your Binance account.
Complete the verification process.
Steps to Transfer Solana (SOL) to STEPN Wallet
1. Launch the STEPN Application
After completing the account setup and getting the activation code, you will be able to log in to STEPN.
Open the STEPN application.
In case you have not downloaded STEPN, you can download it here: Android and iOS.
2. Navigate to Wallet
After getting into the STEPN application, you will be on the homepage with empty icons.
You will be able to see a wallet icon in the upper right corner of your mobile screen.
Tap on it.
Now, you could see two tabs: Spending and Wallet.
Tap on Wallet.
3. Create a New Wallet
Upon tapping on Wallet, there will be a wallet pop-up.
You can create a new wallet or you could import a wallet using the Seed Phrase.
Since STEPN recommends going with a new wallet, tap on Create a new wallet.
After tapping on Create a new wallet, STEPN will ask you to set up a password.
This password will be used to lock/ unlock the wallet in your current device.
Then, it will show you a Seed Phrase.
Wrote it on a couple of pieces of paper and ensure to store it in multiple places where you only have access to it.
If somebody knows your seed phrase, they will have full access to your STEPN wallet.
Refer to this guide to store your STEPN wallet seed phrase safely: Best Practices for Storing and Securing the STEPN Wallet Seed Phrase.
4. Copy the Receive Address
After setting the password and storing the seed phrase safely, you will land in the wallet area.
There you will be able to see 3 options: Receive, Transfer, and Trade.
Tap on Receive.
Now, you could see the QR code along with your STEPN wallet address.
Tap on Copy Address or you could scan the QR code.
5. Select SOL in Binance
Launch the Binance application.
Tap on the Wallet icon.
Now, you will be able to see your Assets.
Navigate to SOL and tap on it.
6. Paste the Address and Amount 
Now, you could see two options: Deposit and Withdrawal.
Tap on Withdrawal.
Now, you need to paste the SOL address that you have copied in Step 4.
Upon pasting the SOL address, the Network automatically matches Solana.
Next, fill in the amount in SOL.
If you want to send all of your SOL to STEPN Wallet, tap on MAX.
Lastly, tap on Withdrawal.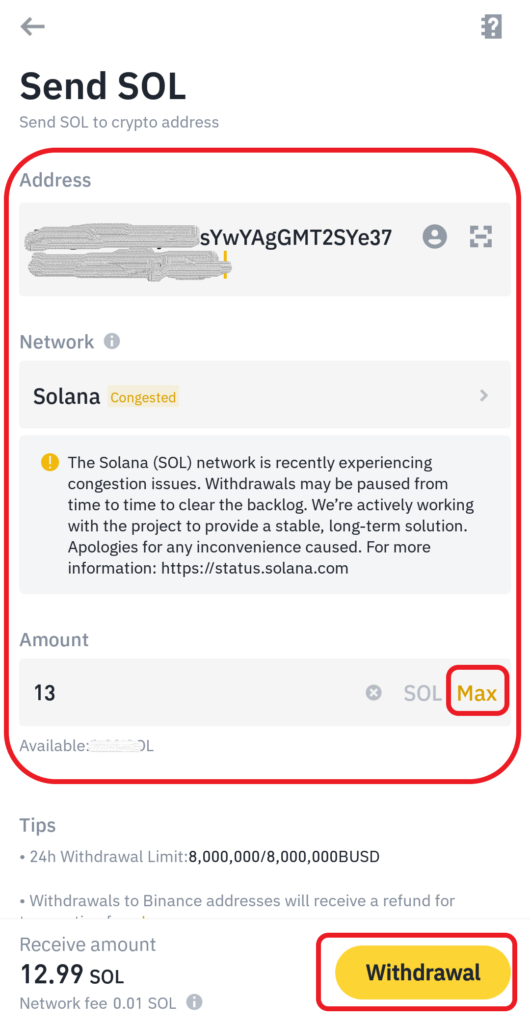 Note: You need to send a minimum of 0.02 SOL from Binance. And, you need at least 12 SOL to buy STEPN sneakers. Otherwise, you can rent sneakers from the other players.
7. Complete the Verification
Next, you need to authenticate the transfer.
Type in the verification codes received in your e-mail and phone and tap Submit.
8. Check your STEPN Wallet
It took us 3 minutes to receive SOL on our STEPN wallet.
After a few minutes, open your STEPN application and check your SOL balance by tapping the wallet icon in the upper right corner of your mobile screen.
Conclusion
Sending SOL to the STEPN wallet is a simple task.
Ensure to select the right network and copy-paste the right address.
To transfer SOL from Binance to STEPN wallet, there will be a withdrawal fee of 0.01 SOL.
Usually, it takes no longer than 5 minutes to transfer SOL into STEPN wallet. If you encounter any delays, that is because of network congestion.
Also Read: How to Transfer/ Withdraw SOL, BNB, GST and GMT from STEPN to External Wallet