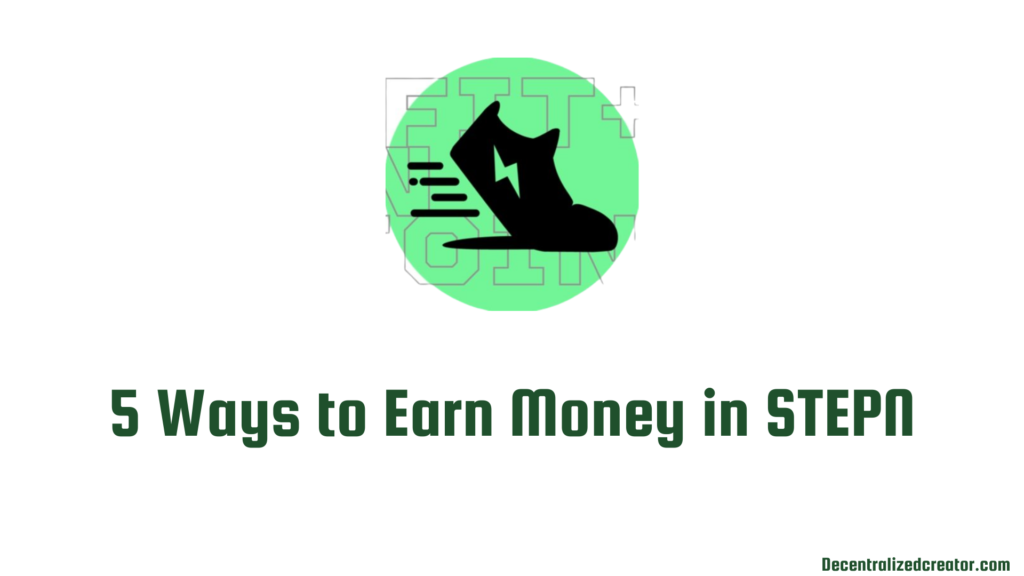 StepN is a new move2earn web3 lifestyle application that rewards people who walk, jog, or run.
StepN has two crypto tokens such as GST and GMT.
GMT is the governance and utility token whereas GST is the utility token.
Both can be earned by walking, jogging, or running outdoors with GPS enabled.
Note: GMT can only be obtained at Sneaker Level 30.
You later can swap GST/ GMT for USDC and then cash out.
After hours and hours of the quest, we have found multiple ways to make money in STEPN.
Before we begin, make sure you have created your STEPN account (getting the activation code), set up your wallet, transferred some SOL to your wallet, and bought an NFT sneaker.
How to Earn Money in STEPN
There are 5 ways in which you can earn GST/ GMT in STEPN.
1. Solo Mode Earnings
After buying an NFT sneaker, you can start walking, jogging, or running in Solo Mode to earn tokens.
Energy is the crucial factor to earn GST tokens.
1 Energy = 5 Minutes of move and earn
Usually, as a Level 1 player, one NFT sneaker will give you 2 energy which is 10 minutes per day.
So, always ensure that you have energy before start walking, jogging, or running.
If there is zero energy, you will not be able to earn any tokens.
In the case of energy depletion, you can exit the Solo Mode by tapping on the Stop button or you can carry on tracking your movement without monetary value.
Energy gets refilled 25% for every 6 hours until the Energy cap is reached.
Rewards: Most Level 1 STEPN users claim that they are earning $15 to $25 per day. 
2. Marathon Mode Earnings
To participate in Marathon Mode, users must register under the Marathon Tab at least 24 hours before the marathon begins.
There are two types of Marathons available:
Weekly Marathon: It will last for a whole week (2.5km, 5km, or 7.5km).
Monthly Marathon: It will last for a whole month (5km, 10km, or 15km).
You can participate in one marathon at a time.
You need to pay an upfront fee to join a marathon. The fee will be refunded after you have completed the marathon.
Rewards:
Top player on the leaderboard for the weekly/monthly Marathon will be rewarded with GST/GMT prizes and Gold NFT Badge (TBD)

The second player on the leaderboard will be rewarded with GMT prized and Silver NFT Badge (TBD)

The third player on the leaderboard will be rewarded with GST prizes and Bronze NFT Badge (TBD)

All participants of the marathon will be rewarded with an NFT badge of participation.
3. Background Mode Earnings
In the background mode of earnings, you don't need to use the STEPN app actively.
As long as you hold an NFT sneaker in the application, Background Mode will be able to count your steps from your mobile's health data application.
Background Mode is capped at 3,000 steps per day.
There are no Durability or Energy costs while earning through Background Mode.
Rewards: Earnings from this mode are fixed regardless of Sneaker's Efficiency or other bonuses and it will not be added towards the daily GST Cap.
4. Marketplace Earnings
Other than walking, jogging, or running, you can earn GST/ GMT tokens in the marketplace as well.
If you have more than one NFT sneaker, you can rent it or trade it to make money.
You can also sell your badges and gems.
5. Quest System
STEPN will deploy a quest system soon.
There will be:
Daily Quest: It provides fixed rewards

Weekly Quest: It provides more quests

Monthly Quest: It provides GST/ GMT token rewards

Holiday Quest: It provides special NFT sneaker airdrop
Things to Remember to Earn More in STEPN
You should maintain the optimal speed range of your sneaker. Moving below or beyond will result in a 90% reduction of your GST earnings.

The higher the sneaker's efficiency, the higher GST earnings per minute.

The higher the sneaker's comfort, the higher GMT earnings per minute.

Factors such as Total Energy, Movement Speed, Sneaker, Gem, and NFT Badges affect your GST token earnings.
Conclusion
Apart from walking, jogging, and running, you can earn tokens in other ways as mentioned above.
Despite the Marathon Mode, Background Mode, and Quest System being tagged as underdevelopment, beginners are making roughly $15-$20 per day in Solo Mode alone.
On the other side, intermediate players/ experts make hundreds of dollars per day.
Your earnings will be in the form of GST/ GMT.
Your GST/ GMT earnings will be stored in the in-app wallet.
Then, you can cash out the GST/ GMT earned.
FAQs
1. How much GST can I earn in STEPN?
Most STEPN beginners claim that they are earning 5-15 GST ($15 to $25) per day. On the other side, intermediate/ experts are making $50-$400 per day.
After reaching the Sneaker Level 30, you can also start getting the GMT tokens along with GST.
2. Is STEPN legit?
Yes, STEPN is a legit project as we could see many existing STEPN users flex their earnings on multiple platforms.
By looking at STEPN's roadmap and its investors, we could say that STEPN is not a scam. STEPN is backed by Sequoia, Binance, Folius Ventures, Solana Ventures, DeFi Alliance, and more prestigious investors.
3. How does STEPN make a profit?
Though major profits from STEPN goes to users, STEPN team make money in the form of fee and taxes for in-app activities, such as NFT sneaker trading  (2%), shoe minting (6%), and shoe rental (8%).
4. When will I reach my ROI in STEPN?
Based on the existing STEPN user's statements, you can reach the return on investment (ROI) within 45 to 50 days. However, it is subject to one's consistency.
If you make progress every day, you will be reaching the ROI within two months approximately.
Read also: Common Mistakes to Avoid as a STEPN Player: A Heads-Up