OpenSea, the OG of the NFT marketplaces has a wide category of NFTs such as art, collectibles, domain names, music, photography, sports, trading cards, utility, and virtual worlds.
OpenSea supports Ethereum, Solana, Polygon, and Klaytn NFTs.
To access OpenSea, you need a cryptocurrency wallet.
In this article, you will learn to connect Kaikas wallet to OpenSea.
Ensure to have enough KLAY in your Kaikas wallet.
You need KLAY to buy or mint Klaytn NFTs. KLAY is also needed to pay the gas fee as well.
To connect the Kaikas wallet to OpenSea, you need to first install the Kaikas wallet.
Then, visit the OpenSea NFT marketplace and click either the wallet icon or the Profile icon.
Choose Kaikas. Your Kaikas wallet will open up.
Lastly, allow OpenSea to connect with your Kaikas wallet by clicking Connect.
Steps to Connect Kaikas Wallet to OpenSea
1. Install Kaikas Wallet
In case you have already installed Kaikas wallet, you can skip this step.
First, download the Kaikas wallet: Chrome, Android, and iOS.
Kaikas wallet is available as a browser extension for Chrome and a mobile application for Android and iOS.
After the download, there will be an account setup process that includes setting a password and storing the recovery phrase.
Just follow the on-screen instruction to complete the process.
You can refer to our step-by-step guide for further clarification: How to Create and Set Up Kaikas Wallet.
2. Head to OpenSea
Once you are done with the installation and account setup process of the Kaikas wallet, you need to go to the OpenSea website.
From there, you can easily establish a connection with Kaikas wallet.
3. Click the Wallet Icon or Profile Icon
After visiting the OpenSea website, you can connect your wallet to get access to Klaytn NFTs.
You need to click either the Wallet Icon or the Profile Icon located in the top right corner of the OpenSea webpage.
Now, you will be able to see a list of OpenSea-supported wallets.
Click Kaikas from that list.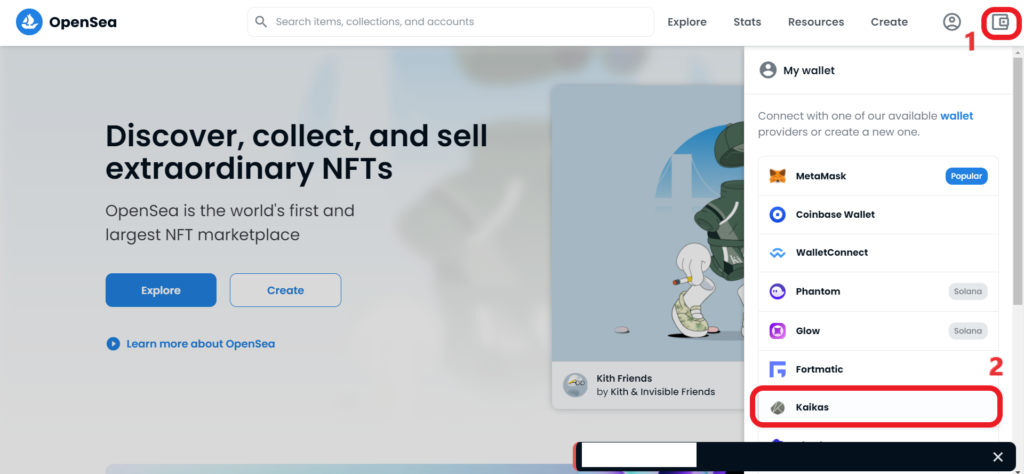 4. Connect Kaikas to OpenSea
Your Kaikas wallet will open up once have clicked Kaikas.
Type in your password and click Unlock.
Immediately after clicking Unlock, you will receive a request from the OpenSea website.
Select the check box and click Connect.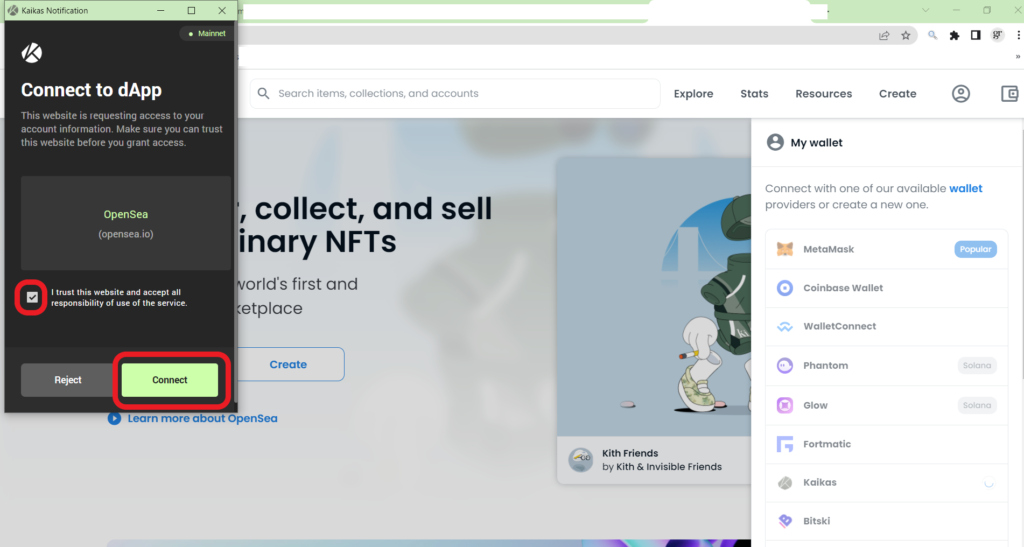 By clicking Connect, you are allowing OpenSea to view your wallet balance, and activity, importantly request approval for transactions.
However, OpenSea cannot transfer the funds without your permission.
That's it. You have connected your Kaikas wallet to OpenSea.
Upon successful connection, you will see a partial address of your Kaikas wallet both under the Wallet Icon and Profile Icon.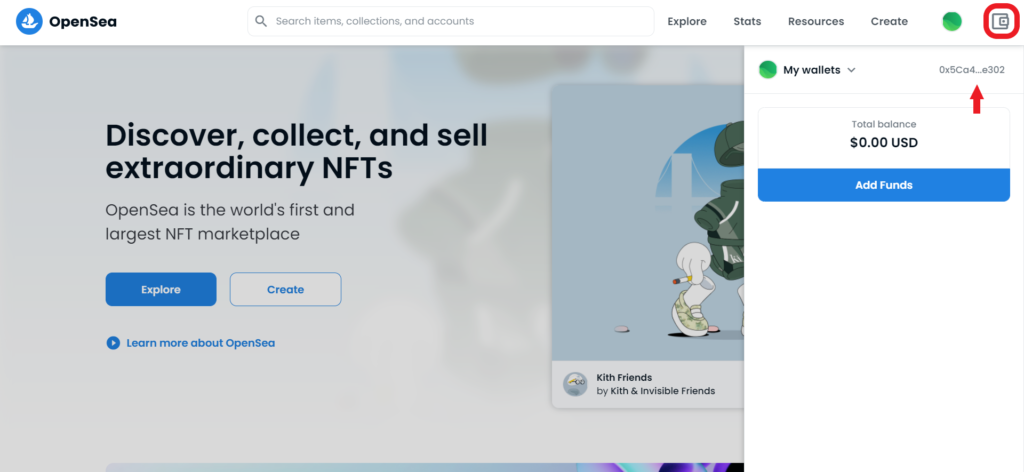 Conclusion
To access the Klaytn NFTs on OpenSea, you need to have a Klaytn wallet and connect it to the platform.
After connecting Kaikas to OpenSea, you can explore, buy, or mint Klaytn NFTs.
Always ensure to disconnect your Kaikas wallet from OpenSea once you are done with your purchase or exploration.
To disconnect Kaikas from OpenSea,
Click

Wallet Icon

, then click

My Wallets

, lastly, click

Log out

Alternatively, you can click

Profile Icon

and then

Log out
To contact OpenSea support regarding Klaytn NFTs, you can refer to this guide: How to Contact OpenSea and raise Support Tickets.
FAQs
1. What wallet is best for OpenSea?
OpenSea supported wallets include:
MetaMask

Coinbase Wallet

Trust Wallet

Portis

Fortmatic

Arkane

Authereum

Bitski

Dapper

Kaikas

OperaTouch

Torus

WalletConnect

WalletLink

Phantom

Glow
If you are willing to explore Ethereum-based NFTs, go for MetaMask, Trust Wallet, or Coinbase Wallet.
If you are willing to explore Solana-based NFTs, go for Phantom or Glow.
If you are willing to explore Klaytn-based NFTs, go for Kaikas wallet.