Glow is a new non-custodial wallet for the Solana blockchain.
With Glow, you can send and receive SOL and Solana NFTs.
However, as of now, this feature is available on iOS only.
Glow displays live price and other metadata information for NFTs from Magic Eden, Solanart, and OpenSea.
It also displays the market stats of SOL along with the price.
Glow is available as an extension and iOS application.
In this article, you will learn how to install the Glow wallet extension and create an account.
Features of Glow Wallet:
Speed

: We have bought an NFT with Glow wallet and it just took a couple of seconds! Even switching between wallets is instantaneous.

Great and clean user interface

: The user interface is easy-to-use and simple.

Rich NFT support

: Glow has an inbuilt NFT index that pulls in live price and other metadata information to view.

OpenSea compatible feature

: While buying NFTs on OpenSea, it will show the Offer Balance that helps to make multiple bids.

Security

: Glow proactively monitors and blocks scam sites.

Network slowness banner

: If there is any congestion in the Solana blockchain, Glow will display a banner stating the slowness.
To use a Glow wallet, you need to first download the extension or mobile application.
Then, you need to create your wallet account.
The account setup process includes setting a new password and storing your recovery phrase.
Steps to Create and Set Up Glow Wallet
1. Download the Glow Wallet
Glow is available as an extension for Chrome, Firefox, Edge, and Brave browsers.
It is also available as an iOS mobile application.
You can download Glow wallet here: Extension and iOS.
Go to the above link to choose your browser and click on it.
2. Click Create New Wallet
Once you have downloaded the wallet, a window will open up.
There you will be able to see three options: Create New Wallet, Import Wallet, and Sync from Glow App.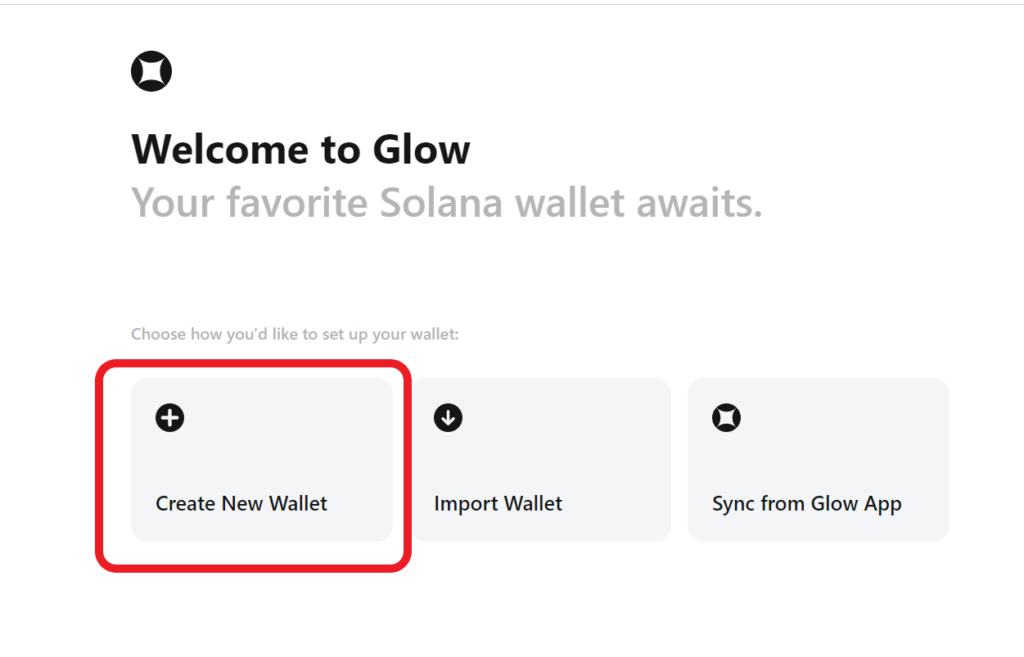 Click on Create New Wallet.
In case you wanted to import your other Solana wallets such as Phantom or Solflare, you can import them by clicking the Import Wallet.
To import other Solana wallets on Glow, you need to click Import Wallet and then enter your Phanom or Solflare wallet recovery phrase.
You can also check other Solana wallets in the markets: 7 Solana Wallets for NFT and Staking.
3. Set a Password
After clicking the Create New Wallet, you need to set a strong password.
After 15 minutes of inactivity, Glow gets locked automatically.
To unlock your Glow wallet, you need this password.
Since Glow is a non-custodial wallet, this password will be stored on your device.
Hence, Glow will not be able to recover your password if you have forgotten it.
Set the password and click Continue.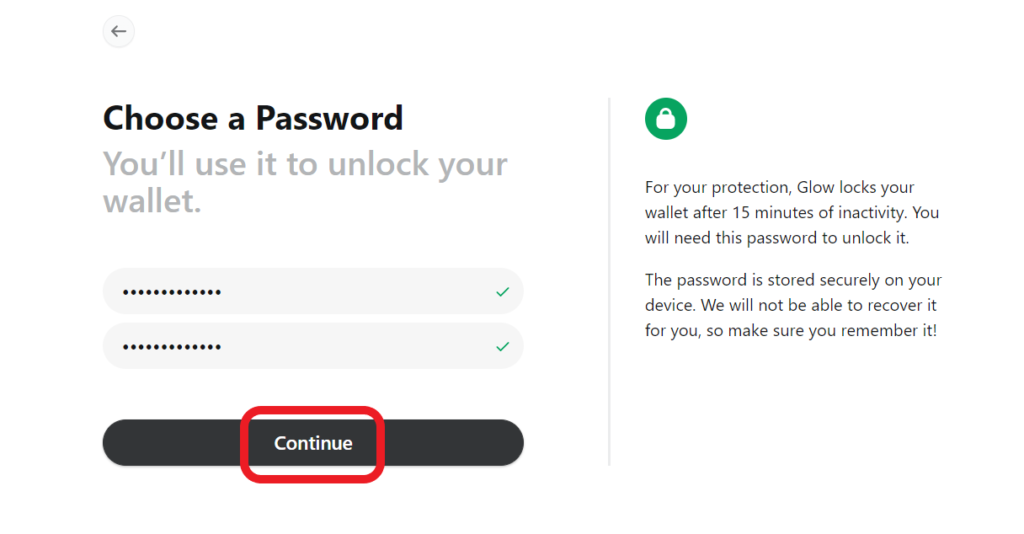 4. Store the Recovery Phrase
Next, Glow will display you the recovery phrase.
Click on Show Recovery Phrase.
Note it down somewhere safe and secure.
It is recommended that you write down the recovery phrase on a few pieces of paper and store it in multiple places rather than store it digitally.
Once you have noted it, click I've Saved the Phrase.
Always remember, the recovery phrase is the only thing that gives full access to your wallets and funds on it.
You can even reset the password with your recovery phrase.
Hence, never share it with anyone.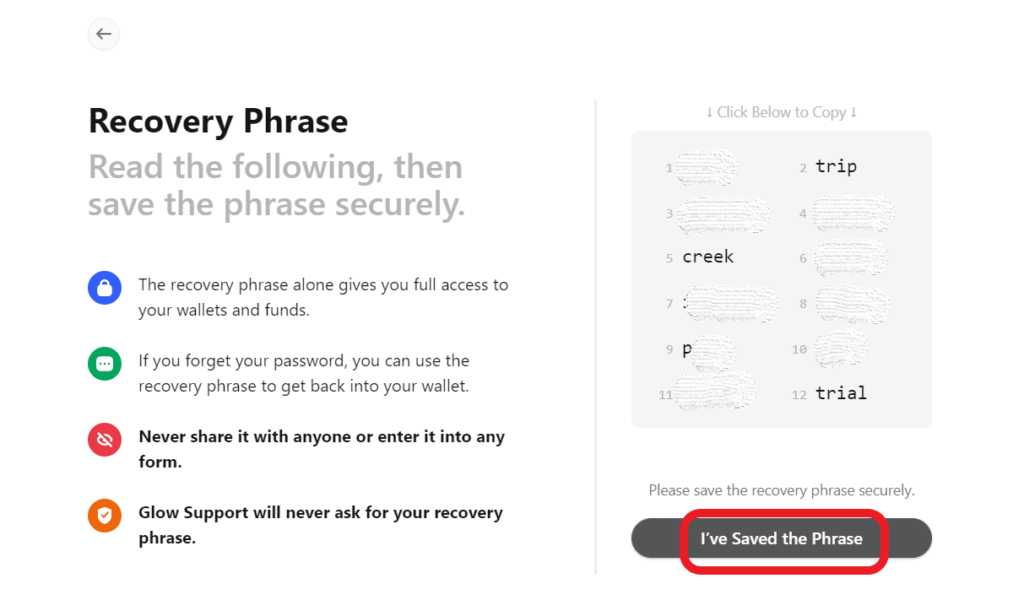 5. Use Glow Wallet
You are all set to use the Glow wallet.
Now, you can explore and buy Solana NFTs.
And, you can buy SOL with Dollars or Euros.
Conclusion
Installing and setting up a Glow wallet is a pretty straightforward process.
Always, never share your recovery phrase with anyone or in any online form. Keep your recovery phrase safe.
The Glow team at any point will not ask your recovery phrase.
In case you encounter any such incident that would most probably be a scam.