Midjourney, the text-to-image generative AI is getting more popular after each of its new version released.
For those who don't know what Midjourney is all about
Midjourney is a text-to-image AI model that uses machine learning algorithms to generate a set of four images based on the user input known as "prompt". It not only generates images but also upscales and makes variations of those images in a single click of a button.
A prompt is nothing but a text description in human language. Those who know how to write good prompts, will produce wonderful artwork in just a few seconds.
Does Midjourney Create Portraits? 
Yes, Midjourney has the capability to create stunning portraits of living, non-living, or persons who don't even exist. You can even try your own portraits in different art mediums by using your images as prompts. Midjourney can also produce beautiful backgrounds for any portraits.
The thing is how you prompt. Though prompts with normal words can bring beautiful portraits sometimes, it is essential to use photographic keywords to explore many portrait styles. 
You can take reference from the below Midjoruney portraits or try free prompt generators to create beautiful portraits and/ or backgrounds for portraits.
50 Midjourney Photorealistic Portrait Prompts
Prompt #1
beautiful latina
source: OpenArt
Prompt #2
very attractive woman , curves , full body and face , 8k , details
source: OpenArt
Prompt #3
Bixby as real woman, google, gorgeous woman, ai human
source: OpenArt
Prompt #4
in the style of charlie bowater
source: OpenArt
Prompt #5
Me
source: OpenArt
Prompt #6
beautiful woman, full shot, full body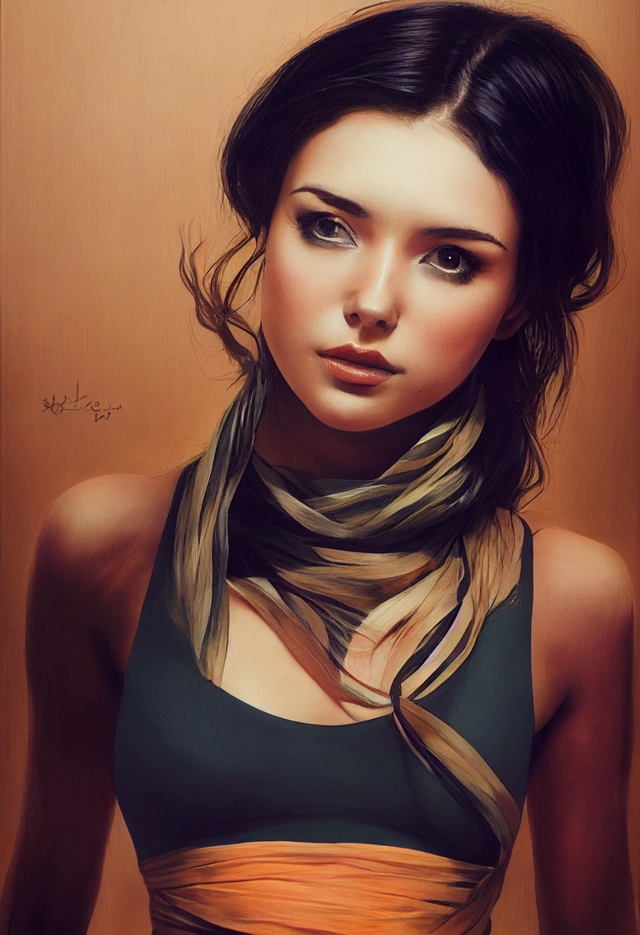 source: OpenArt
Prompt #7
demi lovato singing
source: OpenArt
Prompt #8
character design, gal gadot, cute women, drawn by artgerm, Alphonse mucha, yoshida akihiko, sakimichan, krenz cushart, low angle shot, digital painting, yellow mood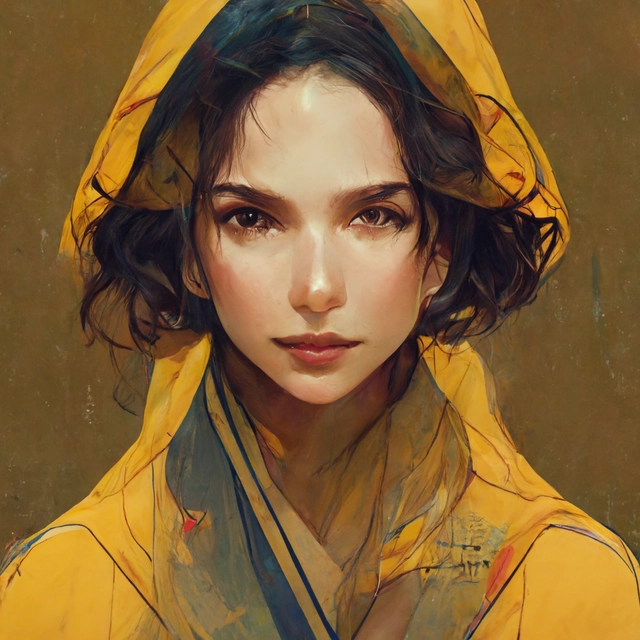 source: OpenArt
Prompt #9
close up portrait of a beautiful Pharah from Overwatch played by a perfect blend of BlackPink, Selena Gomez, and Taylor Swift, tube top and straightened black hair with bangs, golden city, pyramids, shimmering bokeh, art by Artgerm and Greg Rutkowski and Alphonse Mucha, by kyoto animation–s 5000
source: OpenArt
Prompt #10
young man using his iphone, hoodie and jeans, j.c. leyendecker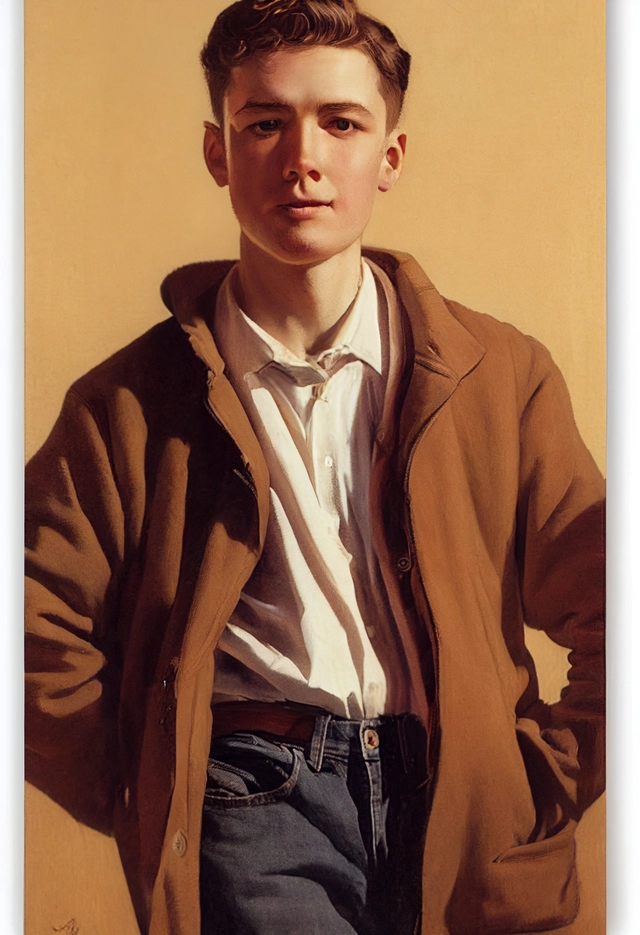 source: OpenArt
Prompt #11
portrait of a small child etherial painted by Norman Rockwell
source: OpenArt
Prompt #12
young boy, portrait, D&D, realistic, highly detailed, 4k
source: OpenArt
Prompt #13
A handsome young sailor with brown hair and captain's cap, steampunk ,Painted by John Singer Sargent, Chengwei Pan , Alex Flores, crow god, low angle shot, digital painting
source: OpenArt
Prompt #14
a woman in a british army uniform, 1812, oil painting, portrait, beautiful, attractive
source: OpenArt
Prompt #15
18 year old Boy illustration in the combined style of Chris Van Allsburg and Maurice Sendak and Dr. Seuss and E.H. Shepard and Shel Silverstein, full body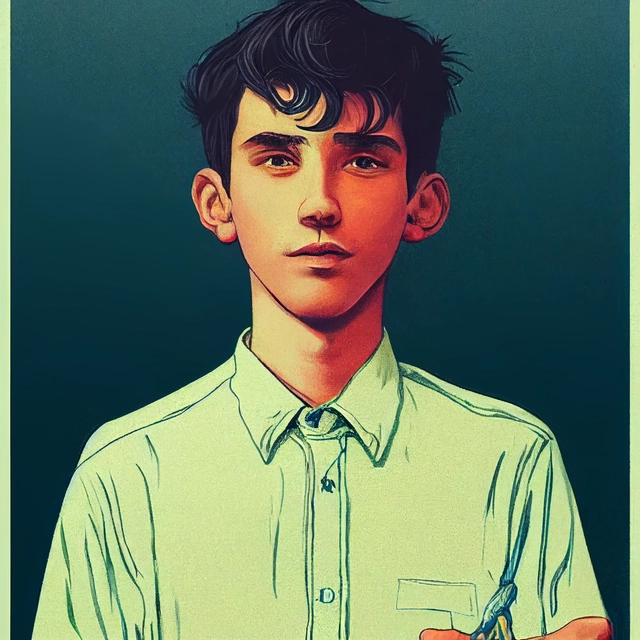 source: OpenArt
Prompt #16
profile picture, young greek man, handsome, nerdy, resembles Robert Pattinson and Pietro Boselli, smile, beard, wide nose, square jaw, full lips, furrowed brow, curly brown hair, black glasses, thick eyebrows, hairy chest, hoodie, white headphones, full profile, fits in frame, style of Brian K. Vaughan, portrait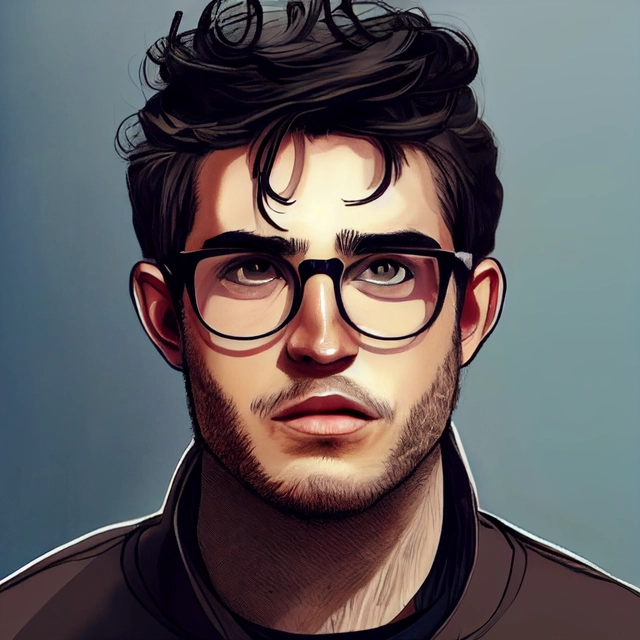 source: OpenArt
Prompt #17
portrait of josh dallas, regency, cravat, aesthetic, intricate, elegant, extremely higly detailed, digital painting, artstation, baroque, concept art, krita, smooth, sharp focus, full body focus, illustration, digital painting, art by artgerm and greg rutkowski and alphonse mucha,symmetrical face + zoomed out + portrait + extremely detailed + ultra-realistic, soft shadows + photorealistic skin, ornate clothing, + 4k + uhd + 3d + octane render + cinematic
source: OpenArt
Prompt #18
portrait of young man , messy red hair , colored pencil drawing , in the style of john constable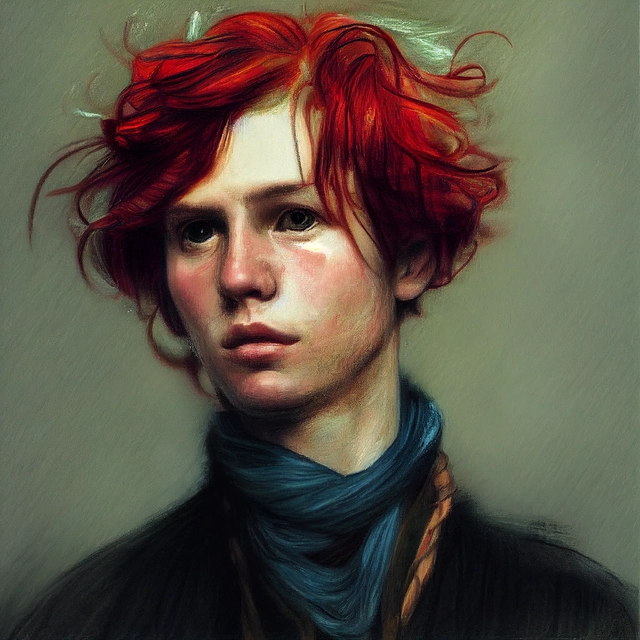 source: OpenArt
Prompt #19
Portrait of a young girl by Edgar Degas, pastel, pastel colors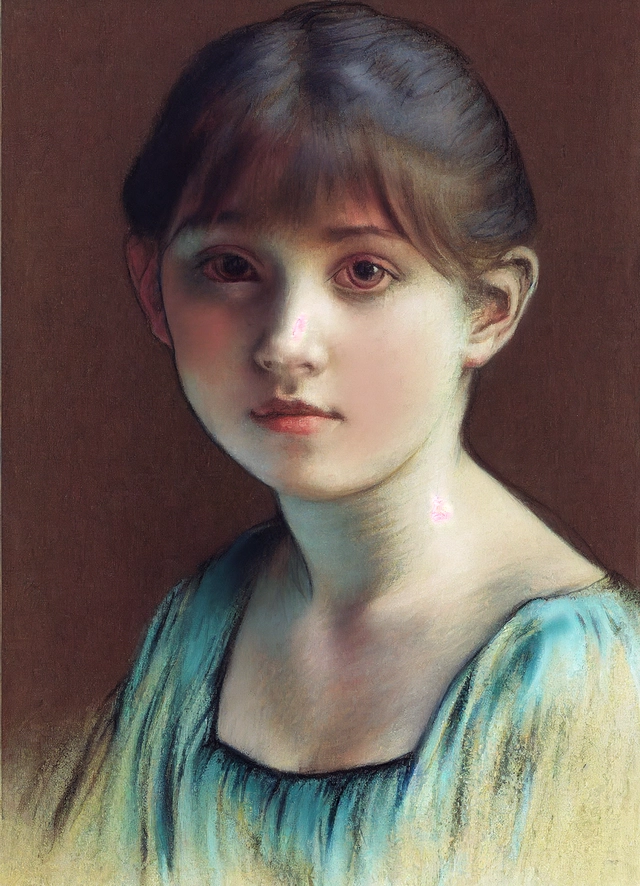 source: OpenArt
Prompt #20
Timothée Chalamet dressed as Batman without mask, portrait, art by Notman rockwell
source: OpenArt
Prompt #21
Hyper-realistic portrait of a young boy with short hair, brown hair, green eyes, post apocalyptic, Gritty, cinematic, concept art, 8k
source: OpenArt
Prompt #22
portrait of poor boy opening eyes, looking up to the skies, in the style of 2D cartoon graphic novel, 4k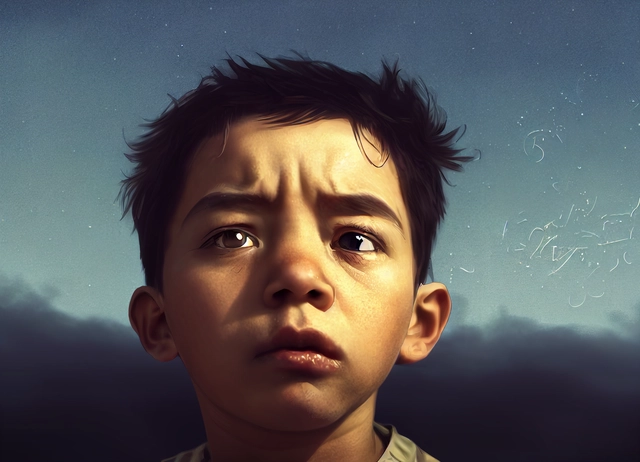 source: OpenArt
Prompt #23
pulp cover Dean Cornwell and Earl Norem and James Avati painted portrait of a unkempt halfling hobbit of the woods, male, post apocalyptic hunter with wooden bow, punk dark synth, grindhouse, 70's scifi, highly detailed
source: OpenArt
Prompt #24
the most superior white supremacist, 4k realism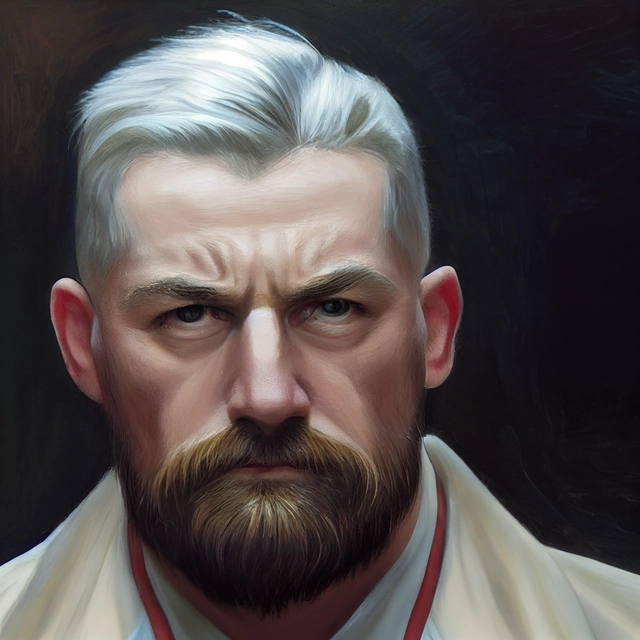 source: OpenArt
Prompt #25
rough painted farmer, Georg Baselitz style
source: OpenArt
Prompt #26
Portrait of present day slim Adele painted by caravaggio, 16k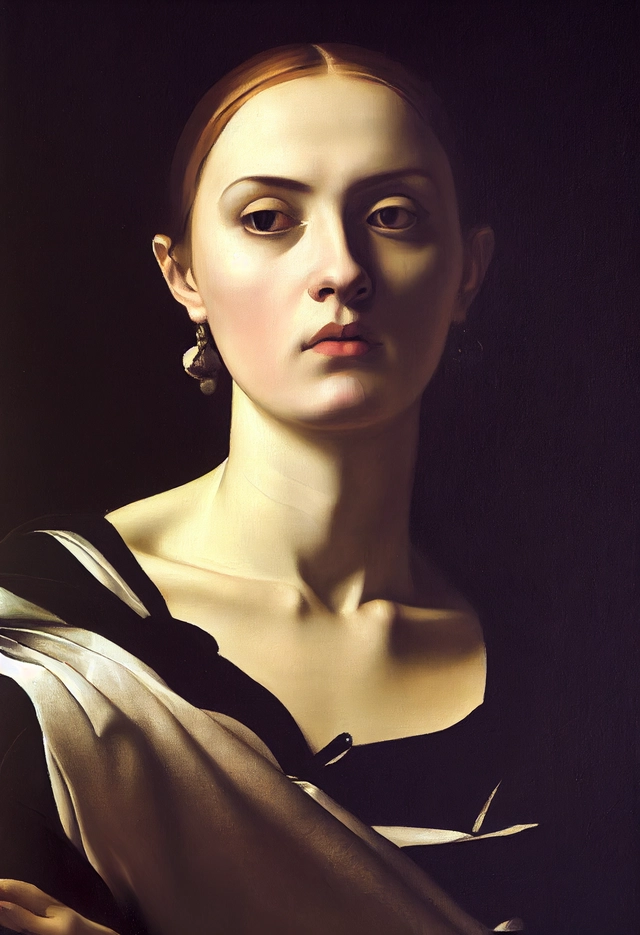 source: OpenArt
Prompt #27
bald smiling indian man with a goatee and black round glasses, looking wise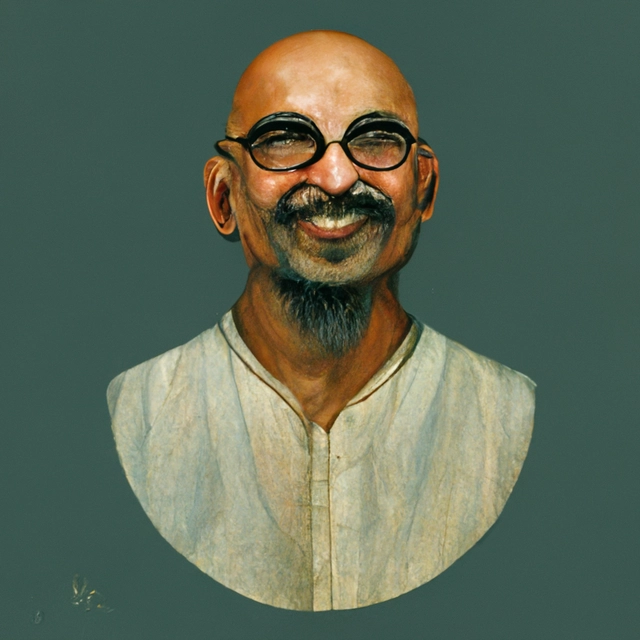 source: OpenArt
realistic 4K happy beautiful woman with long blond hair and blue eyes and pale skin wearing a white shirt with embroidery
source: OpenArt
Realistic portrait, caricature
source: OpenArt
portrait photograph of a girl that looks scary + in the fog + smoke + creepy + style of vintage photography + at night + glowing eyes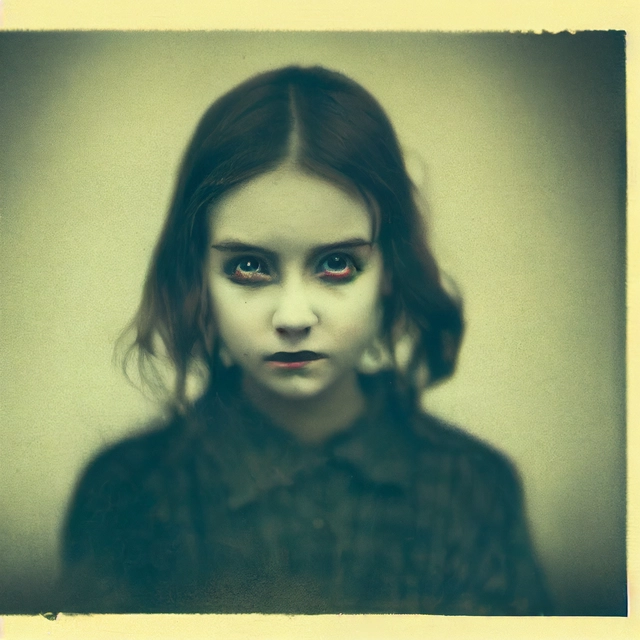 source: OpenArt
aramis Stilton portrait
source: OpenArt
commander with dog maltese head, detailed portrait, painting, realistic, cinematic, masters
source: OpenArt
English Springer Spaniel dog Glamor Shot, Portrait, Rim Lighting, Soft Lighting, Volumetric
source: OpenArt
Welsh Springer Spaniel dog Glamor Shot, Portrait, Rim Lighting, Soft Lighting, Volumetric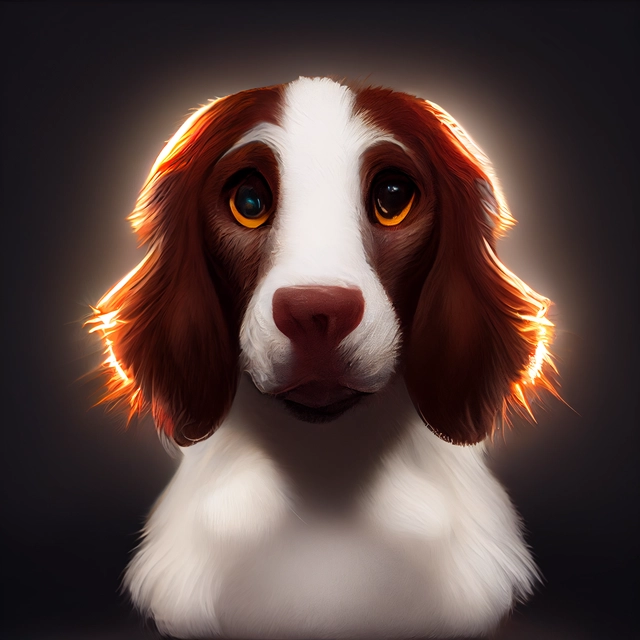 source: OpenArt
golden retriever with golden hair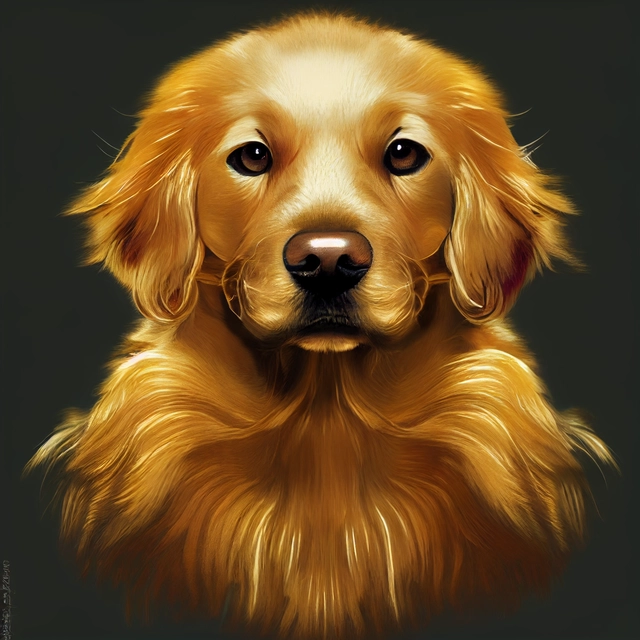 source: OpenArt
Cute Pixar Fat golden retriever, character portrait, high quality offical art by Pixar, golden ratio, cinematic lighting, 8K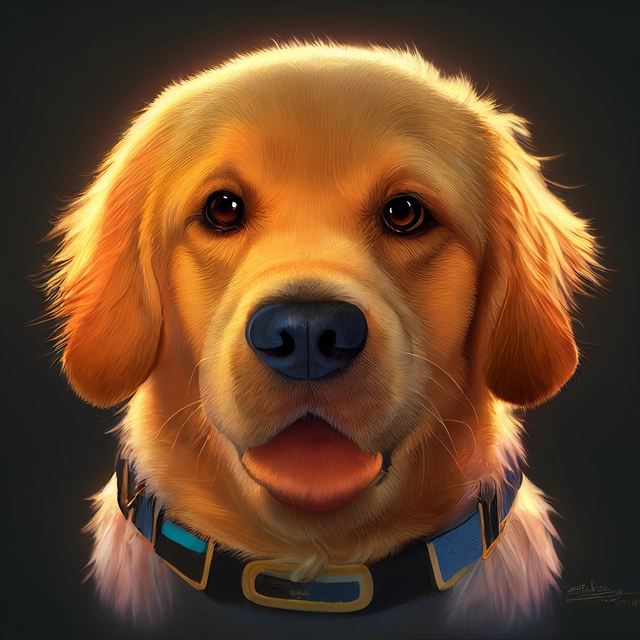 source: OpenArt
an incredible portrait of an adorable Labrador pup, upfront, high detail, lively photorealistic
source: OpenArt
photorealistic portrait of a short young man with a yellow t-shirt and blonde wavy hair and clean shaven round face features, Photo realistic, Ultra detailed, Portrait, 8k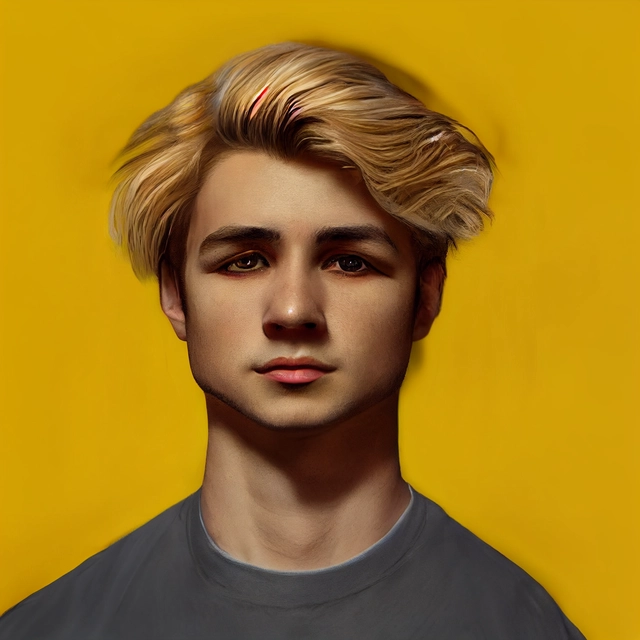 source: OpenArt
Portrait of cat as George Washington, painting, realistic, hd
source: OpenArt
close portrait of cat in space
source: OpenArt
a portrait in drypoint style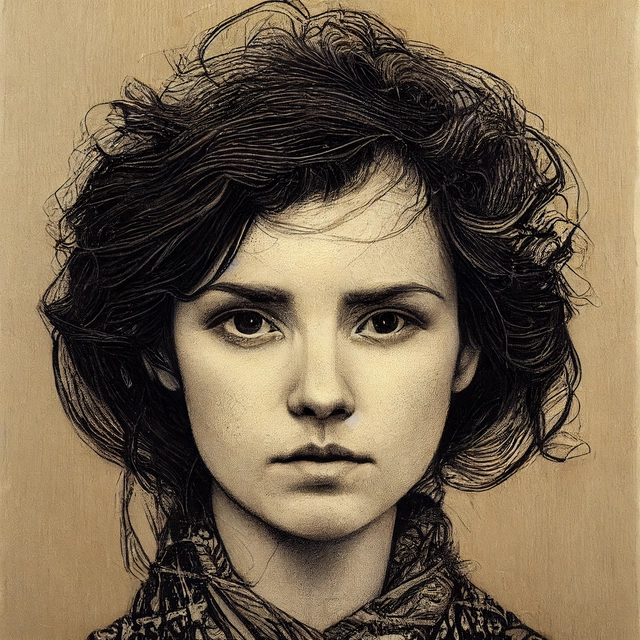 source: OpenArt
lonely man with a mini brown poodle dog in leonardo da vinci style, 8k, high quality, portrait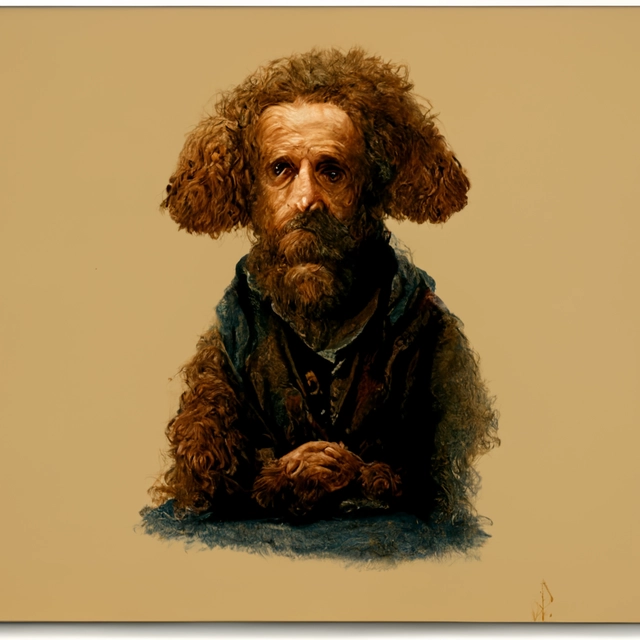 source: OpenArt
portrait the loneliness of the genius 8k uhd cinematic unreal engine octane render hyper realistic hyper detailed
source: OpenArt
body builder mike horn, portrait, beautiful eyes, photorealistic, octane render, 4k, uhd
source: OpenArt
a photo realistic portrait of Cable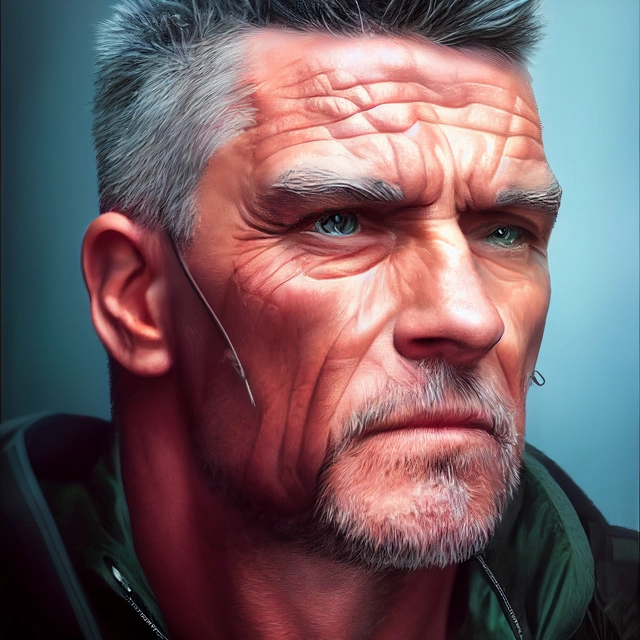 source: OpenArt
hyper realistic hyper detailed Photorealictic parrot
source: OpenArt
Pixar style, vulture on a tree branch, cinematic lighting, ultra-hd portrait, photorealistic
source: OpenArt
Aarakocra, portrait, falcon head, trending on artstation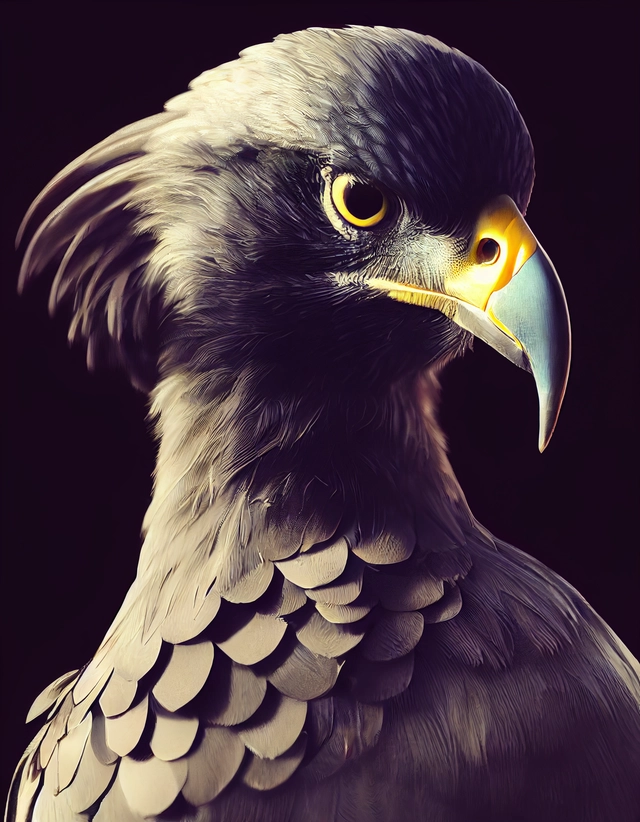 source: OpenArt
alpaca with glasses, head portrait, cute symmetric design, unique, spectacular, perfect, exquisite, futuristic, synthwave, space art, trippy, magical, mystical, cosmic, electricity, radiant energy, shimmering, shining, reflections, extremely detailed, stunningly beautiful, epic composition, cinematic
source: OpenArt
Anthropomorphic majestic angry birds character portrait, finely detailed, cinematic lighting, intricate design, 4k, 8k, unreal engine, octane render
source: OpenArt