Non-Fungible Token ( NFT ) is set to reach a trillion-dollar market valuation in the next few years. NFT gonna impact every industry from real estate, fashion, arts to photography, and much more. 
Nearly 99% of NFT transaction volume is happening in the Ethereum blockchain. The growing gas price and transaction fee are limiting the entire NFT ecosystem. There is a huge demand for NFT on other blockchain including Solana, Cardano, and Avalanche. 
The NFT ecosystem on Avalanche has huge potential because of the following reason 
NFT transactions on the Avalanche network costs very low and almost nothing. 

NFT transactions are really fast 

Avalance launched 220 million funds focused on NFTs. 

Supports NFT natively. 
We have curated the biggest and best Avalanche NFT Marketplace where you could able to create, mint, and sell NFT's. Here is the list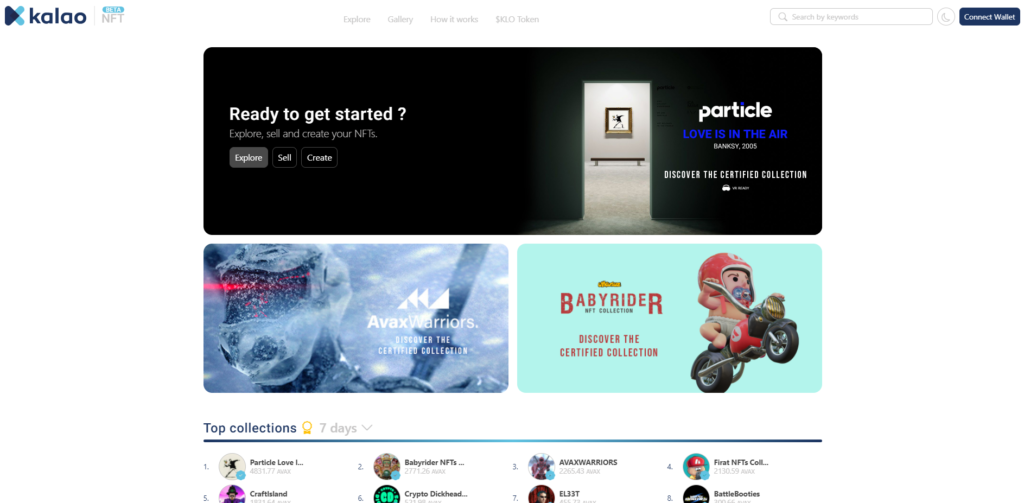 Kaleo is an NFT ecosystem that compromises NFT Marketplace, Metaverse Experience, and bridges real-world use cases. 
In Kaleo, you can able to create, mint, and sell your NFT on Avalanche blockchain. 
Kaleo NFT marketplace engine is powered by a fast and secure, low-fee Avalanchee blockchain. They support both X-Chain and C-Chain networks to offer multiple auction types. 
Kaleo marketplace brings some of the best creators and artists together. They are developing a unique way to experience NFTs. Magnify your NFTs in a full 3D virtual reality experience. 
For creating an NFT, there is an estimated gas fee that would be applied. 
For selling an NFT on Kaleo, a 2.5% service fee will be levied on every transaction.
NFTrade is the first cross-chain and blockchain NFT platform. They are an aggregator of all NFT marketplaces and host the complete NFT lifecycle.
In NFTTrade you can able to create, sell and buy NFTs from various blockchain networks in a single and easy-to-use platform. 
NFTrade supported blockchains are Ethereum, Binance Smart Chain, Polygon, Avalanche, and Moonriver. 
Currently, they are not charging any transaction fee, you have to pay only the gas fee on your transaction.
NFTrade support Metamask, WalletConnect and Coinbase Wallet.
Yetiswap is a decentralized exchange ( DEX) and NFT marketplace running on Avalanche blockchain. 
In Yetiswap you can able to buy/sell NFT collections and even create your own NFT. 
Yetiswap is the only NFT marketplace offering royalties on Avalanche, profiting from both NFT artists and collection owners. 
Yetiswap charges a 3%  fee on every transaction. 
Yetiswap supports Metamask, Coinbase Wallet, Wallet Connect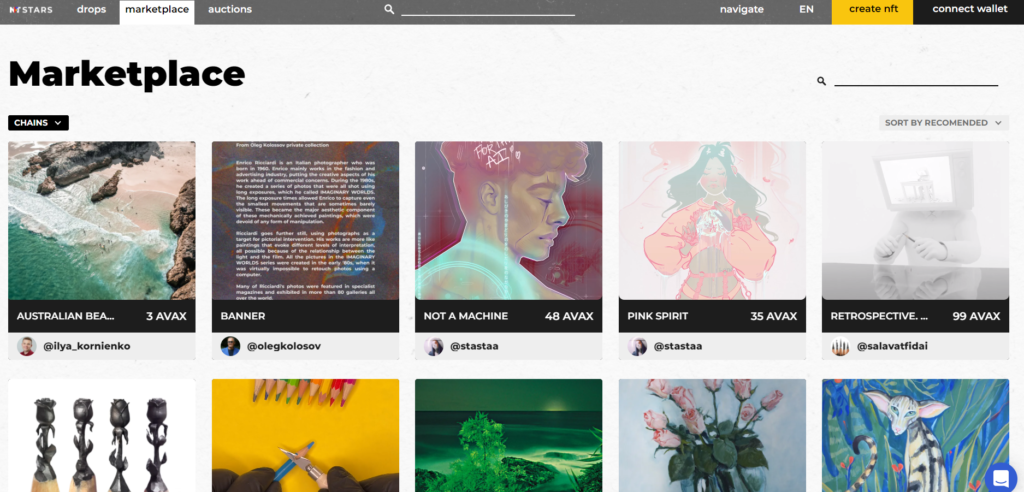 NFTstars is a cross-chain NFT marketplace and currently supports Ethereum and Avalanche. 
NFTstars feature that cannot be found on other NFT platforms 
Collaborative projects between artists 

Fractional Trading 

Gas free NFT mining 

AR galley 

Handpicked project 
NFTstarts only lists high-quality art by a talented artist who caters to high-paying buyers.
NFTstars supported wallet are Metamask, WalletConnect, Coinbase Wallet.
NFTKey is a decentralized multi-chain marketplace to discover, collect and trade NFT. NFTKey supports Binance Smart Chain (BSC), Fantom ( FTM), Avalanche ( Avax ), and Ethereum ( ETH ) 
NFTKey unlocks easy access to digital collectibles explore, buy and sell NFTs from different blockchain and artists. 
NFTKey supports Metamask, Wallet Connect and Coinbase Wallet.