NFT is a digital asset that proves ownership of digital items such as images, art, video games, or virtual land. Digital ownership is stored on blockchain technology like Ethereum or Solana.
NFTs are unique and can't be replaced with something else. 
Non Fungible Token has been grown to $20 billion dollar sales volume in 2021 is a raise from $200 million dollars in 2017. That is an unprecedented change in NFT sales volume and 2021 is the time NFT goes mainstream. 
Most of the NFT art and marketplace is part of the Ethereum Network and the major disadvantage of the Ethereum network is a huge gas fee applied on the minting of NFT's. Because of the higher gas fee, there is a rise in the Solana-based NFT marketplace. 
Super low gas fees and transaction speed allow Solana to be the preferred blockchain for NFTs. Every day a lot of NFT projects with a roadmap of Metaverse and Play-to-Earn games are launching on Solana Ecosystem.
Benefits of Solana NFT Marketplace include:
Lower gas fee's 

Ultra-fast transaction speed 

Growth of Solana ecosystem growing continuously day by day
We have curated the top Solana NFT marketplace where you can able to buy, sell and mint your NFTs. Our ranking is based on transaction volume, quality of projects listed on the marketplace, wallet support, necessary features like mint calendar and stats, onboarding experience for creators, transaction fee, and community. 
Best Solana NFT Marketplaces
Magic Eden is the number one Solana NFT Marketplace where you can able to create, sell and buy NFT's. They have a listing fee of 0% rather they take 2% on every transaction. Creators can set their royalties and paid immediately after a sale happens. 
Magic Eden Launchpad's products and services aim to help creators mint their collections without any technical capability. Currently, they are accepting only a small number of projects. 
Magic Eden supports almost all Solana Wallets from Phantom, Slope, Sollet, Solflare, Clover, Ledger, Solong, and MathWallet.
Magic Eden has popular NFT projects/collections ranging from Galactic Geckos, Shadowy Super Coders DAO, Portals, and much more. 
Solanart is NFT Marketplace based on the Solana network that allows any to create, sell and buy Solana-based NFT's. 
Solanart has a transaction fee of 3% for every successful NFT sale. The creator can able to set their own fee.
Solanart has popular NFT collections ranging from Degenerate Ape Academy, Aurora, Solpunks, and Galactic Gecko Space Garage. 
Solanart supports several wallets including Solflare, Phantom, Clover, Sollet, Slope, Ledger, MathWallet, and Sollet (Extension)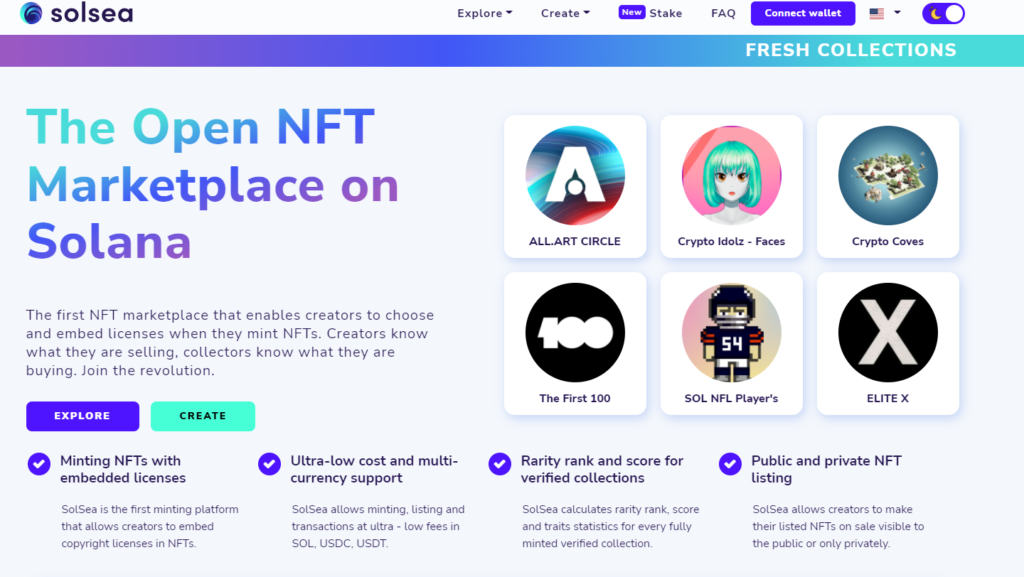 Solsea is the first Solana NFT marketplace that helps creators to sell, mint, and buy NFT's. Solsea also introduces NFT's with rarity rank and NFT compatibility with SPL tokens. 
With Solsea's calendar feature, you could never able to miss the upcoming drops, project.  Solsea has a successful NFT collection including basis. markets, All.ART Circle and Meta Waifus.
Solsea's First 100 is the first-ever of its kind Virtual NFT Art fair featuring the pioneers and early adopters. You can check out their First 100 here
Solsea supports major Solana Wallets such as Phantom, Solflare, and Sollet. For every transaction, they charge 3% of successful NFT sales. They won't charge listing fees. 
Solsea can handle the creator's royalties. Artists can set their own royalties and for every sale, royalties amount would be distributed to the creator.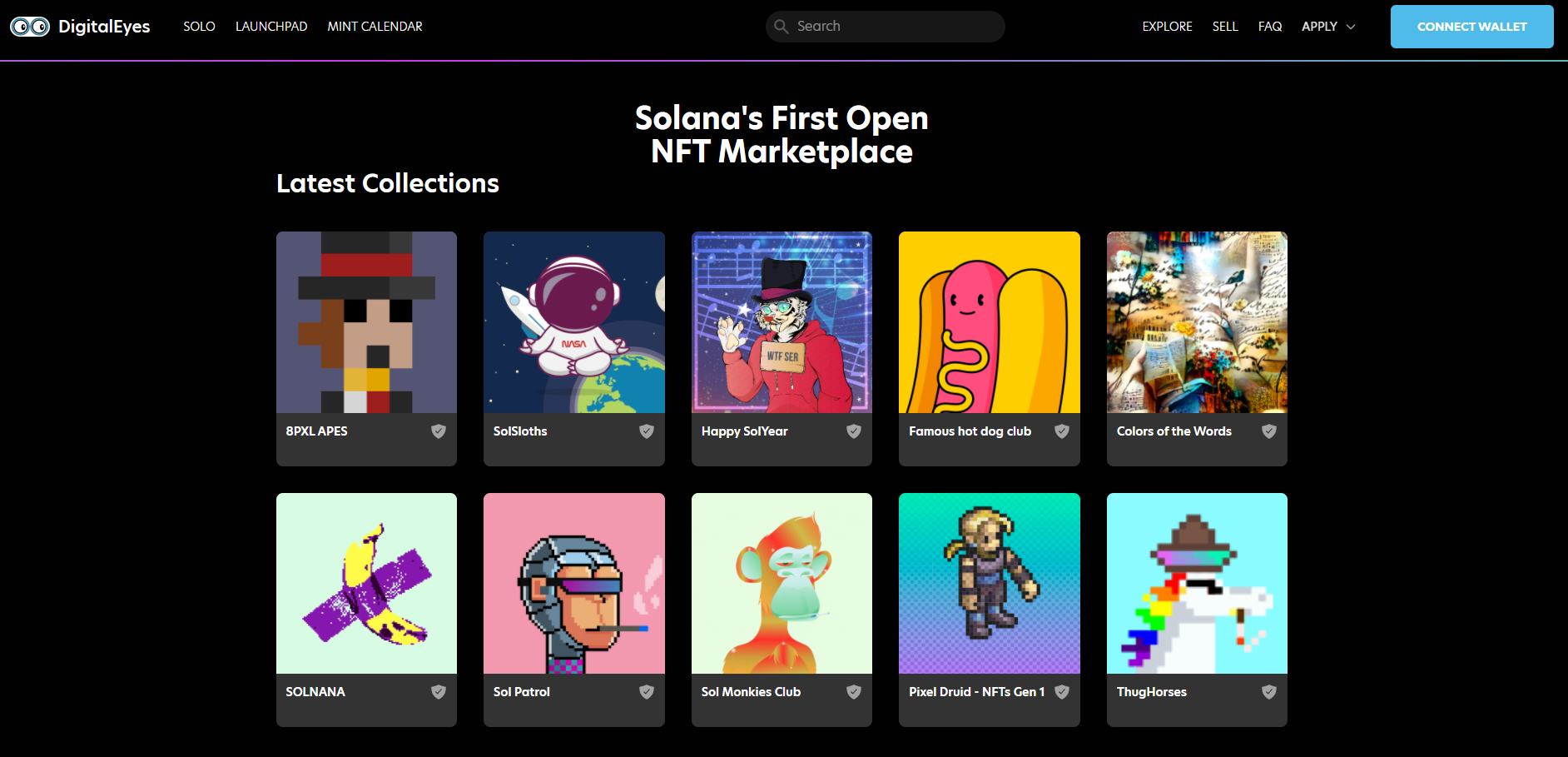 DigitalEyes is Solana's First Open NFT Marketplace where users can able to create, sell and buy Solana's NFT. 
The top NFT collection of DigitalEyes is Aurory, Degenerate Ape Academy, Frakt, and Galactic Gecko Space Garage. 
With the Mint Calendar, you can able to see the upcoming NFT Drops and Launches.
DigitalEyes supported wallets are Phantom, Sollet, Solflare, Solong, Slope, and MathWallet. 
DigitalEyes has a typical services fee of 2.50% of every successful NFT sale. Two additional fees are applied for the buyer of the NFT that is royalty fee set by the creator and the service fee.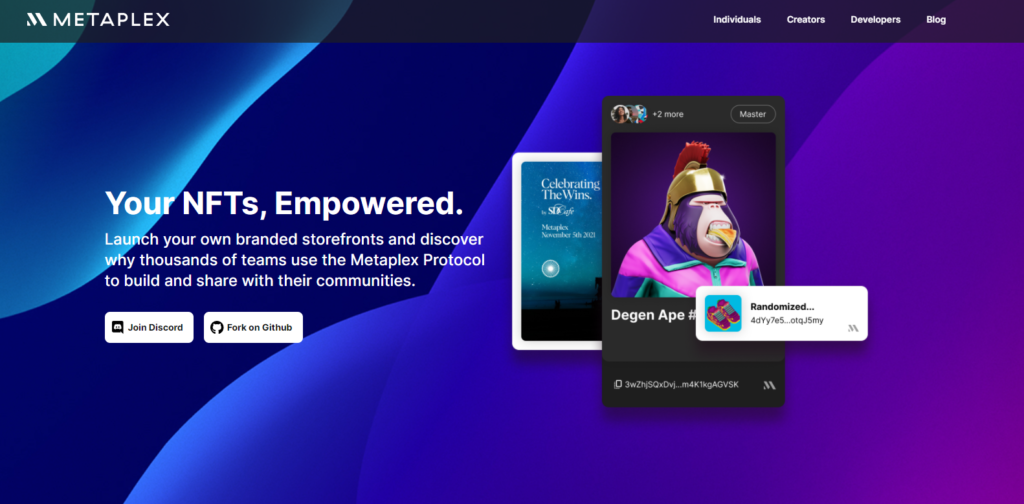 Metaplex is like Shopify for your NFT collection. Instead of listing your NFT on the open marketplace where you have to compete with multiple NFT projects. 
Your project gets shown based on the marketplace guideline and rules and this could be a major drawback for your brand.
With Metaplex you could able to launch your own branded Storefronts. The Megaplex storefront connects to a powerful on-chain decentralized program that mints and sell NFT's.  You could able to avoid marketplace fees for every successful NFT transaction. 
Lots of successful Solana-based NFT project has been launched on Metaplex including Degen Ape Academy, Solana Monkey Business, Genopets, Nyan Heroes, and Oddkey.
Alpha art is the revolutionary NFT marketplace currently allowing users to buy/sell Solana-based NFTs. 
Alpha.art doesn't charge any listing fees. They have a flat 2% seller fee which is taken at the time of the sale. 
Currently, Alpha.art didn't support minting at their marketplace. 
The supported Solana wallet are Phantom, Slope, Solflare, Ledger, and Sollet.
Exchange is Solana NFT Marketplace for everyone, focusing on 1/1 art and independent creators.
In Exchange.Art marketplace you can find Handpicked art collections sets, illustrations, drawing, photography, painting, algorithmic arts, profile picture, AI arts, 3D arts, and Banner. 
Exchange.Art doesn't charge any listing fee. They have a 2.5% fee for every successful transaction. There is no fee for purchasing and however you have to pay the Solana Network fee.
Exchange Creators Portal is a fully integrated dashboard for artists and creators to easily post and manage collections for their entire brand. 
The supported Wallets are Phantom, Solflare, Slope, Torus, Ledger, Blocto, And Sollet.

Artz.ai is the first decentralized NFT Marketplace on Solana. Artz.ai is an open marketplace to discover and collect unique art ( NFT ). 
Each transaction costs 0.00001 SOL or 0.000005 SOL depending on the type of transaction. 
Listing and minting are free in Artz.ai, the user only pays for the blockchain charges. On successful transactions, we charge a 2% commission on all purchases on Solana. 
Currently, Phantom wallet is supported by Artz.ai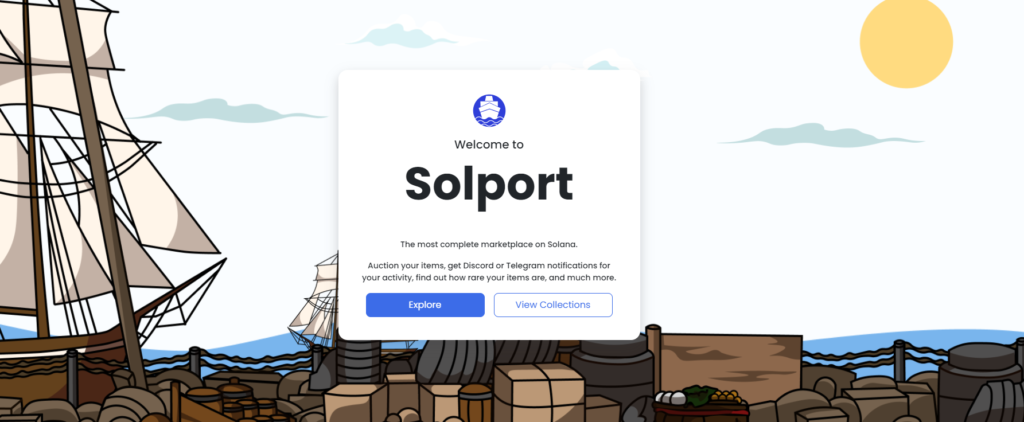 Solport is an NFT marketplace on the Solana blockchain that offers user Auctioning, Rarity Filtering, Discord/ Telegram notifications for the marketplace activity, and much more. 
Currently, there is no listing fee / refunding fee on Solport. Solport charges a 2% fee for sellers on all successful transactions.
Top Solana projects like Realm Kings, Mutant Monkey Business are listed on Solport.io 
Phantom and Solflare are the only two wallets supported by Solport Marketplace. 

SupaDrop is a dedicated NFT Art Marketplace that is fully focused on Independent creators who have authentic and rare digital arts, user experience, and community.
Supadrop support variety of assets ( AR/3D, Video, Audio, HTML, Image ) 
They charge low minting fee 0.01 SOL ($1.6 ) and 0.03 SOL ($4.8) . 
2.5% Platform fee for the primary and secondary market. 
Every week they support Artist drop part session to shill their artwork on Supadrop.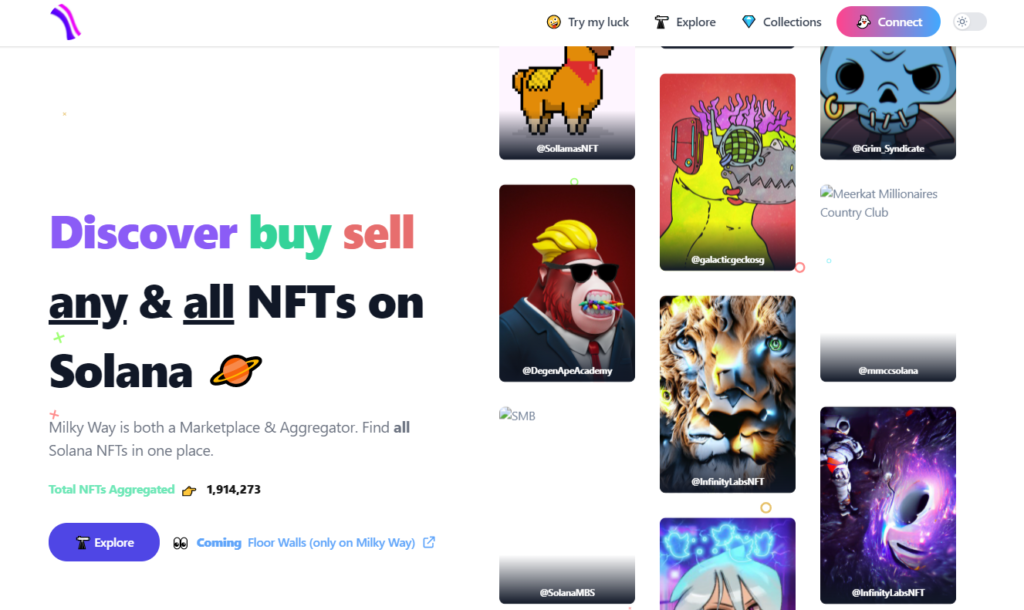 Milky Way is both a Marketplace and Aggregator where you can able to find all Solana NFTs in one place. In Milky Way, you can find every Solana NFT project listed on a third-party marketplace including their list price and other information. 
They have aggregated more than 2 million Solana NFT on their platform. 
Milky Way changes 0 listing fee, 0 creator fees, and a 2% transaction fee. They support royalties and that can be set by creators. 
LIQNFT is the premier marketplace for fractionalized NFT. Fractionalize your NFT, you will be able to list your NFT on the most accessible and efficient NFT marketplace on Solana.  
You can sell a portion of your NFT LIQNFT is the only marketplace you have to look after. 
LIQNFT currently charges no fee on transactions. However, Serum currently charges a 0.22% taker fee when an order is matched. 
The supported wallet is Phantom, Solflare, Torus, Ledger, Solong, MathWallet, and Sollet.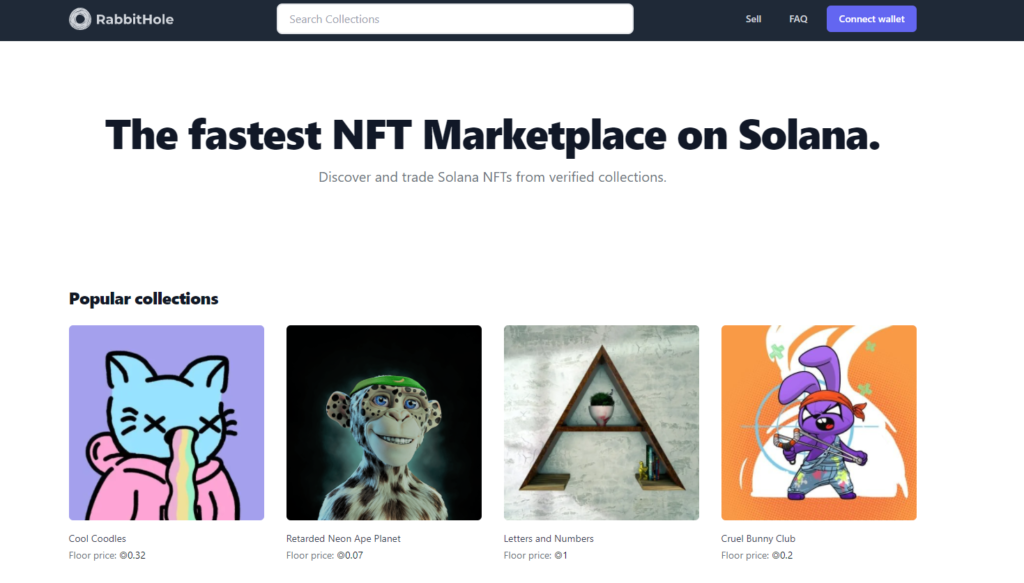 RabbitHole Market is an NFT Marketplace on the Solana blockchain where you can buy or sell verified NFT collectibles. 
They don't charge any listing fee and charges 1% on every successful transaction. 
At the moment, Phantom is the only wallet they are supporting.
FAQ 
Which is the largest Solana Marketplace by volume and traffic?
MagicEden is the largest Solana Marketpalce by Sales and Traffic Volume. According to Similarweb, MagicEden is visited by more than 10 million people every month and millions of transactions are happening every day.
Can we buy NFT with Solana?
Yes, you can buy NFT with Solana. You have to buy Solana from exchanges like Binance or Coinbase. Then you have to transfer your Sol from your exchange to Solana supported wallet. After that, you can visit the Solana NFT marketplace to buy your first Solana NFT. Before buying your NFT deeply research the particular NFT project. You can check out the Best Solana NFT Project.
Where to buy/sell Solana NFTs?
You can buy and sell Solana NFTs on trusted Solana NFT Marketplace such as MagicEden, SolanArt, Solea.