Solana NFT ecosystem is growing and doing billions of transactions every day. With Solana's dedicated marketplace and Solana-based NFT, projects are on the rise. 
OpenSea the largest NFT marketplace supports the Solana NFT project that clearly shows the potential of Solana NFT in the Future.
The launch of Solana Move to Earn Games like STEPN with built-in NFT capability shows how innovations are happening in the Solana NFT space.
Checkout
Here we have curated the top and best Solana NFT projects based on utility value, community, road map including play-to-earn games, metaverse possibility, and total transaction value.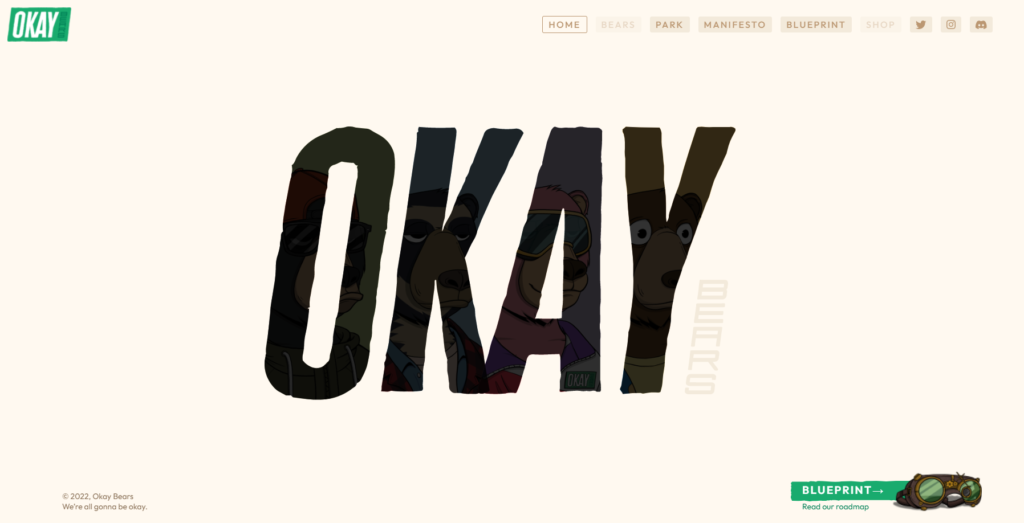 Okay Bears is a top and the biggest NFT project launched on Solana with $18 million dollar sales in one day.
Okay Bears is an immaculate collection of 10,000 diverse bears that grants you exclusive access to The Park, where the entire community member will get together.
The Okay Bears NFT owner will access meaningful member-only merch drops, outdoor campaigns, exclusive live events, and collaboration with indie businesses and world-renowned brands.
Okay Bear's mission is to build a globally recognized brand in the future.
Currently Okay Bears in number one Solana NFT projects with over 585K total volume transactions.
You can follow them on Twitter and join their community on Discord.
DeGods is a deflationary collection of degenerated, punks and misfits. Gods of Metaverse & Masters of our own universe.
DeGods is building an ecosystem for buying, selling & minting blue-chip NFT with $DUST.
Their goal is to build a household name. They will conduct some unique IRL events at major NFT conferences for the NFT Holder.
You can follow DeGods on Twitter and Join their Discord Community.
Cets on Creck is a collection of 6969 NFT  – dope digital collectibles chilling on the Solana blockchain.
Cets on Creak NFT holder will be able to unlock benefits, perks, and dope shit slowly.
Cets on Creak is available on NFT Marketplace including MagicEden and Opensea.
You can follow Cets on Creak on Twitter and Join their Discord Community.
Degenerate Ape Academy is a collection of 10,000 NFTs on the Solana Blockchain. The Degenerate Ape Academy is founded on the principles of friendship making, crayon eating, and absolute, unregulated, deplorable, degenerate behavior. 
The difference between each NFT is their Traits and Rarity. There are 137 total traits in the Academy, all classified from common to mythic. 
The common rarity among Degenerate Ape Academy are Common, Uncommon, Rare, Super Rare, and Mythic
Degenerate Ape Academy is available on Magic Eden and supported Solana Wallet are Phantom and Solflare. 
Moonrock Capital just acquired the 13th rarest @DegenApeAcademy NFT for 5980 $SOL ($1,109,170.40) pic.twitter.com/STkwJetRl1

— Moonrock Capital (@MoonrockCapital) September 11, 2021
Degen Ape #2719 is currently the highest-priced NFT of Degenerate Ape Academy and it is priced at 6969 SOL 
As of now the total volume of 270 K Solana transactions has happened at Degenerate Ape Academy.
Galactic Gecko Space Garage is a social adventure club featuring more than 10,000 geckos on Solana Blockchain.
Galactic Gecko NFT is proof of the membership granting you access to the Space Garage, future dorps, and the community of fellow geckos.
You can check the rarity of your Geckos NFT using the Galactic Gecko rarity tool or Concordian rarity tool
Galactic Gecko has a total transaction volume of 307K Sol ( at the time of writing ) 
Galactic Gecko #9262 is currently  listed at the highest price of 3000 Sol 
Supported wallets are Phantom, Slope, Solflare, Solong, and MathWallet and are hosted on Magic Eden Marketplace.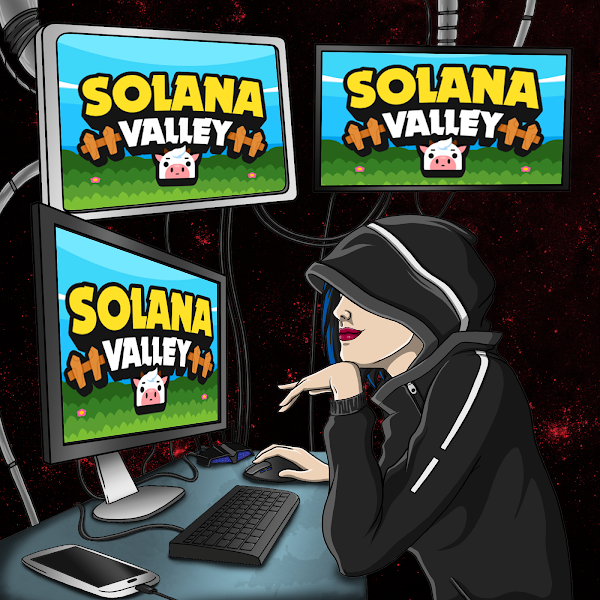 Shadowy Super Coder DAO is a collection of 10000 NFT which was minted at the price of 2.5 SOL.
Genesys Go is Solana's exclusive blockchain infrastructure company that operated RPC Call to aid Solana Validator.
Shadowy Super Coder is powered by GenesysGO, each NFT holder had the privilege to tap the protocol's RPS and unlimited data.
You can follow Shadowy Super Coder on Twitter and Join their Discord Community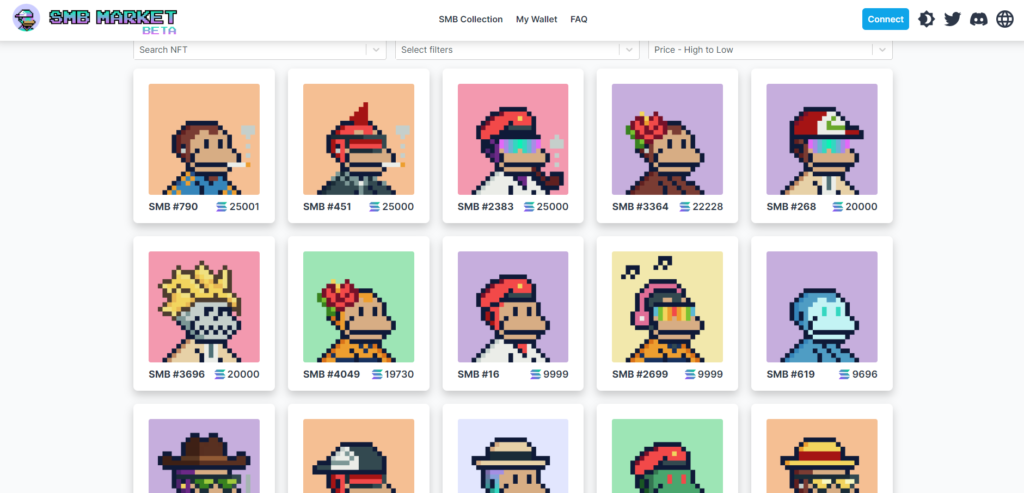 Solana Monkey Business Gen 2 is a collection of 5000 unique 24 * 24 pixel randomly generated monkeys.
The advantage of holding Solana Monkey Business is NFT ownership, as well as a community wallet useable by holders with a future on-chain voting system. 
Each monkey is generated from over 99 possible character attributes.
Steven Harvey changes his profile picture to Solana Monkey Business
SMB #790 has sold for a price of  SOL 25001. Currently highest value for any other SMB. 
Rank 1 Solana Monkey Business #1553 sold for 13027 SOL ( 2+ million dollars in value )
Solana Monkey Business support wallet including Phantom, Slope, Solflare, Torus, Sollet, and MathWallet. 
SMB has a total transaction volume of 828.2k Solana.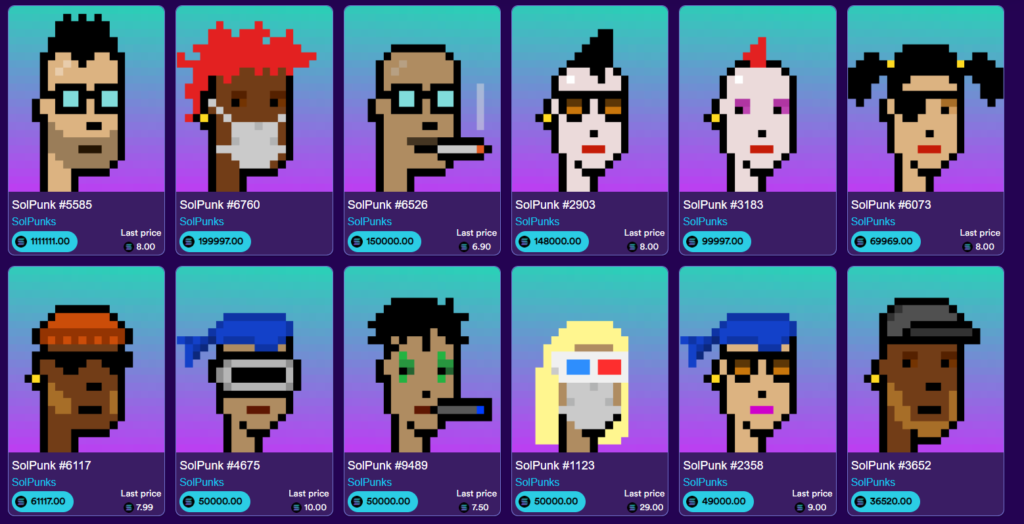 Similar to CryptoPunk. SolPunks is one of the first NFTs on the Solana Blockchain. Each of these 10,000 SolPunks has unique attributes. 
SolPunks types are Alien, Ape, Zombie, Female, and Male, and a total of 8 Category counts. 
Solpunk is available on Solanart Marketplace which supports wallets including Phantom, Soflare, Clover, and Slope. 
As of now, Solpunk has traded a total volume of 417K Solana.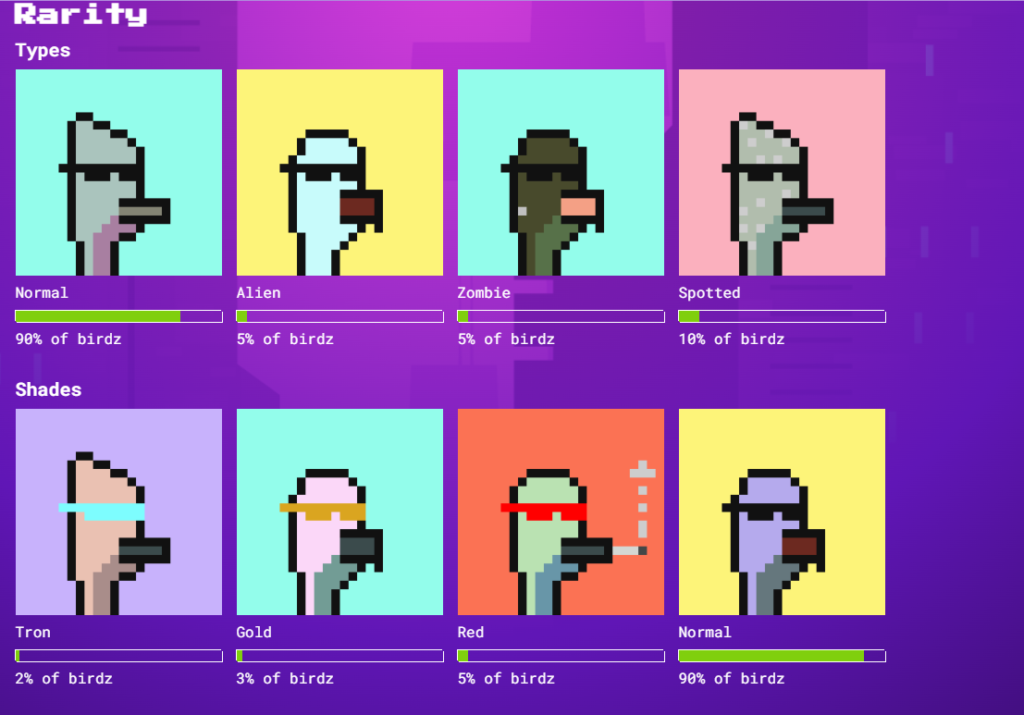 Thug Birdz is a collection of 3,333 uniquely generated, tough, and collectible thugbirdz available on Solana Blockchain. 
Thug Birdz's rarity is based on Types, Shades, Chains, Face-tattoo, Ear-ring, Smoking, Hats, Meta-data Gang roles, and Rappers. 
Their roadmap includes collaboration with other projects, an 8-bit thugbirdz game, and getting thugbirdz in a rap song. 
Major Rapers Wiz Khalifa & Waka Flocka joined Thugbirdz
gm @thugbirdz and taylors pic.twitter.com/ujj3RvrIju

— Wiz Khalifa (@wizkhalifa) November 18, 2021
ThugBirdz is available on DigitalEyes which supports both Phantom and Solflare wallets. 
Thug Birdz's total transaction volume as of today is 76.5 K Solana.
Degen Dojo is a collection of generated NFT projects. Each NFT project will contain a rich amount of metadata that created a unique character. The combat stats of each NFT is encrypted and can be only deciphered within the hidden teahouse of the Degen Dojo.
The project is heavily inspired by the animation series "Samurai Champloo" and was originally planned for Ethereum in 2021.
You can follow Degen Dojo on both Twitter and Join their Discord Community.
Frakt is the first generative art NFT project on Solana. Each frakt is a uniquely generated art piece with 5 different types of shapes and 4 color schemes, each with various rarities. 
Frakt is a limited supply of 10000 frakts out of infinite possibilities.
Frakt has a pretty solid roadmap plan from staking, sandbox, DAO, and Frakionalizer.
Frakt is available on Solanart, Digital Eyes, and their own Marketplace
Frakt is supported by Phanton, Solflare, Ledger and Sollet.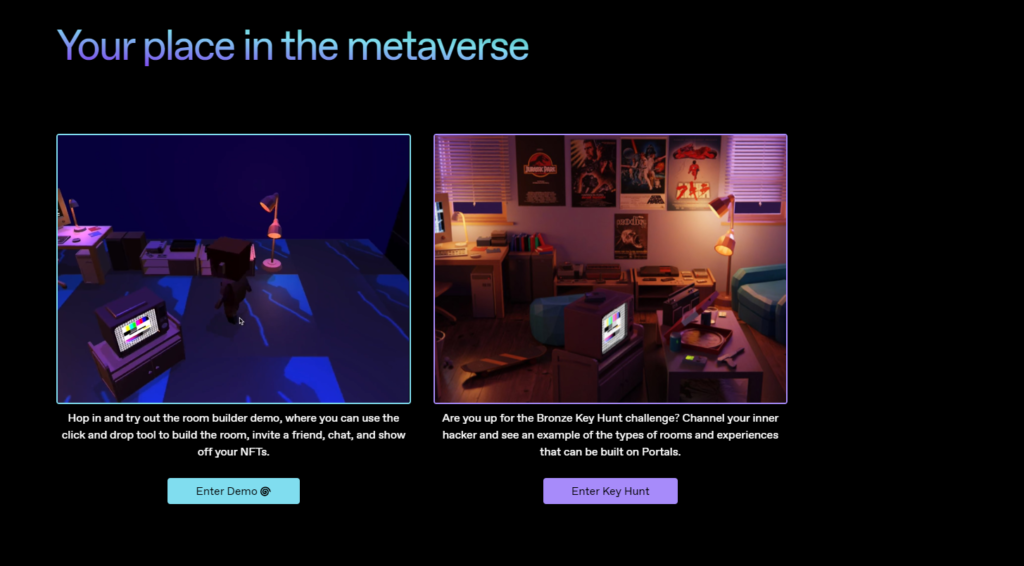 Portals is a web-based metaverse platform on Solana Ecosystem. Currently, they are working on Room ownership and permission, More NFT integrations, Community partnership, Early adopter outreach.  
Portals NFT grants you ownership of one of the units in Building One. The NFT will be your proof of ownership and access card to your space in the building. The card will store and remember everything you own and build in Portals. 
Portals NFT are available on Magicden. They have done a total volume of more than 109k Solana at the time of writing.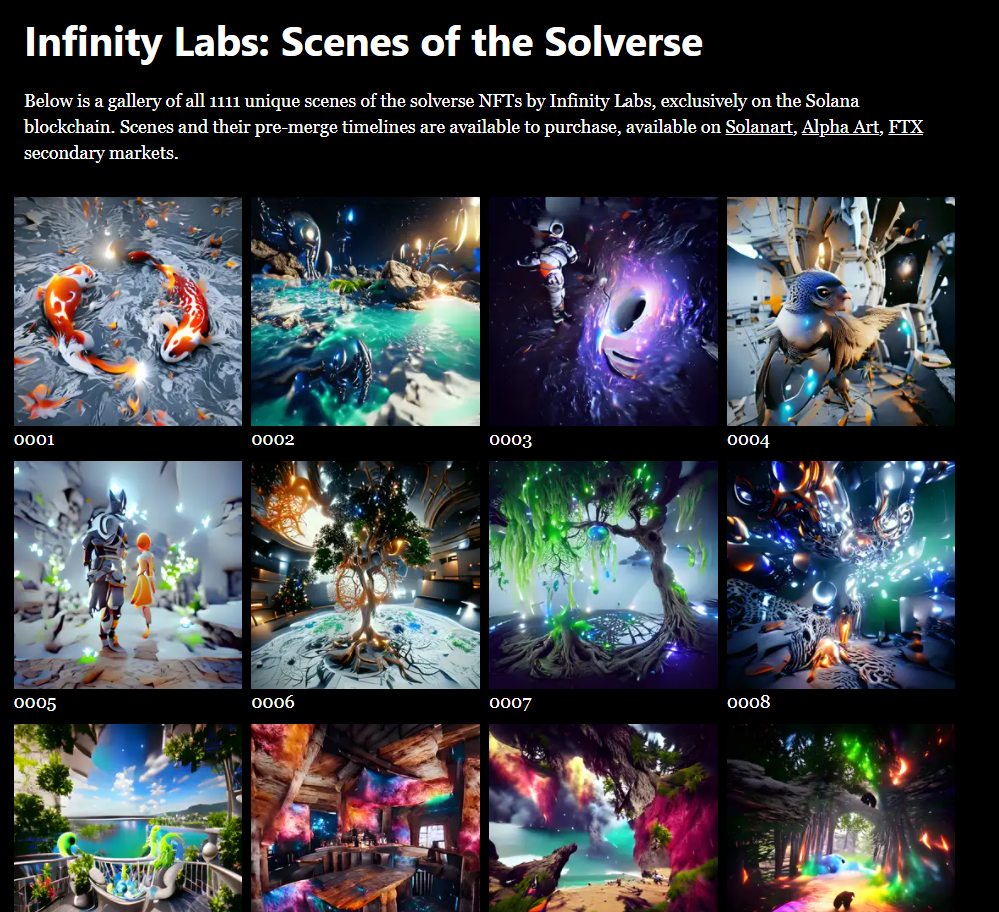 Scenes from the Solverse is a collection of 8888 NFT or scenes from every corner of Metaverse and they are called Solverse. 
Solverse NFT is a collection of 111 unique artwork and 8 copies of each that represent 8 different possible timelines. 
It is the first of a kind animated NFT merging on the blockchain and this will unlock thousands of animations, stories, and rare sounds by collecting & merging timelines.
You can purchase their NFT on Solanart, Magic Eden, Alpha Art, FTX, and Exchange Art. 
A Solsteads NFT comes with a unique street address and a beautiful depiction of a home.  
Solsteads is a surreal estate collection of 2472 homes. Each NFT represents an individual house on each directory and addresses 
Solstead is available on DigitalEyes, Solaart, Magic Eden, and FTX.
Aurory is a play-to-earn desktop game and it has more than 10000 NFT items that players can trade. Aurory project is invested by Solana Foundation, Alameda Research, and CMS. 
Aurory team is composed of talents from the gaming and the cryptocurrency industry. With the former experience in studios like Ubisoft, EA, and other reputable companies. 
Aurory is on the goal to develop one of the sought-after play to games in the Solana Ecosystem.
Aurory is listed on Solanart Marketplace which supports Phantom, Solflare, Clover, and Slope. 
Aurorian #6423 is currently the highest-priced NFT at 111K Solana. 
Aurory has a total trade volume of more than 565 K Solana ( At the time of writing ). 
FAQ
How to find Solana NFT Projects?
To find out Solana NFT Project, you have to visit Solana NFT Marketplace such as MagicDen, Solsea, where you can able to find Solana NFT Project. Before buying NFT you need to have to buy Solana from Cryptocurrency exchange and transfer it to Solana-supported Wallet.
What is the best Solana NFT Wallet?
The phantom wallet is the best Solana NFT Wallet. As Phantom wallet is supported in almost all major Solana NFT Marketplace and it is available on a mobile device so that you can view your NFT collection through any device. You can check out the other best Solana Wallet.
What is the best Solana NFT Rarity Tool?
HowRare.is is the best Solana NFT Rarity Tool that helps you to find how rare your Solana NFTs are.
Checkout